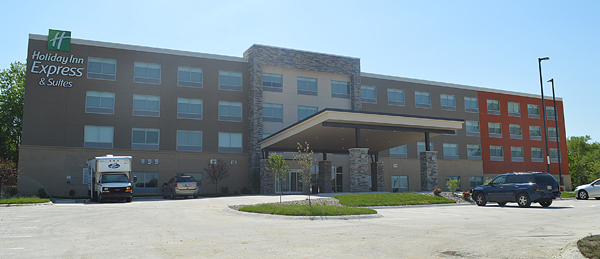 Warsaw's newest hotel has 96 rooms, a pool, a fitness room and is Hoosier owned.
Holiday Inn Express & Suites opened Friday for business at 300 Prosperity Drive, between East Center Street Extended and North CR 175E, and within walking distance of Ruby Tuesday.
Indiana Hospitality Group Vice President of Operations Derrick Sousley said IHG has had the land for the hotel for several years.
"Warsaw is such a vibrant community with all the Biomet, medical, Grace College, the Chamber of Commerce, the city, Kosciusko County – everybody has been great to work with and really welcoming – so building here just made a lot of sense," Sousley said. "We're a Hoosier-owned company, locally owned and right up in Granger, so (our corporate office) is about an hour away from here. Hoosier Hospitality is just kind of a way of life down here in Warsaw, seemed like a natural thing for us to do and a good decision."
With the City County Athletic Complex just right down the road, he said IHG knows there's more of a need for hotels in Warsaw.
"We had some hotels in Goshen. We still do. And we had some spillover all the way from Warsaw up there for some of the softball tournaments," Sousley said.
The 96 rooms include a mix of king suites (a larger room with a sofa bed), queens and queen suites and about a half dozen Americans with Disabilities Act handicapped-accessible rooms.
"Our bread and butter in this business is kind of special corporate. We are set up for special discount corporate rates," he said. If anyone is interested, they can call the hotel at 574-549-9400 and ask for General Manager Rachel Jarrett.
"But groups are huge, too, and hopefully we'll get to a point here soon where groups can start getting back together again. But weekend, group, business, weddings, leisure, get-aways – we think we're situated here in a great spot where we're kind of good for all those different market segments," Sousley said.
The pool is ready, but can't open until the end of this week due to Indiana Gov. Eric Holcomb's reopening phases during the COVID-19 pandemic.
"We're in a different world right now with the COVID-19, so the post-COVID-19 world is a little bit different than the pre-COVID-19, and one of the big things that we're doing is, the IHG hotel Clean Promise is a program that they've rolled out," he said. "Basically, it's going to be something where we have a clean champion assigned to the hotel. We're going to make sure everybody is practicing social distancing. We have the signage already here. We'll be getting barriers at the front desk. We have hand sanitizer stations throughout the hotel and in high-traffic areas."
IHG also is working closely with Ecolab, which Sousley said is a large chemical provider that has "a hospital-grade cleaning product that we use that kills the coronavirus in seconds."
He said the hotel's big focus is making sure everybody – including staff and guest – are staying safe.
"We're even having personal package sanitation kits and mobile check-in and we're also – not no-touch check-in, but limited-touch interaction is kind of our goal, and IHG is rolling that out pretty aggressively at all of their hotels," Sousley said.
It's a different world, and people want to get back to "normal," he said, and IHG wants people to feel safe when they come out.
Hotel Inn Express & Suites has 10 associates at this time, but he said more people will be hired as people start to travel more and reservations increase.
Now that the hotel is open, Jarrett said, "I'm super excited."
She's been with IHG for about a year and started with IHG at its Comfort Inn in Goshen, which IHG no longer manages.
"But she did a great job there, so we promoted her to bring her out here and be the general manager. She has worked 25 days in a row, and even when I give her a day off, she still comes in," Sousley said.
Jarrett said it's a new staff so she wanted to make sure they were supported and knew what they were doing.
Sousley and Jarrett then provided a tour of the first floor of the four-floors hotel.
The hotel has an Express Star breakfast room where eventually there will be IHG's famous cinnabons, along with eggs, sausage, bacon, biscuits and gravy and pancakes.
There is a board room that seats up to 20. It has HDMI cable for presentations. The sliding barn doors are custom-made by an Amish man out of Goshen. He also builds all the hotel's cabinetry, tables and chairs in the public spaces. "We try to outsource everything locally, as much as we can," Sousley said.
A meeting room is just down the hall and will have HDMI as well as an LCD projector. On the side are a sink and cabinets.
"And then we have a 24-hour fitness  center, and our pool opens at 10 (a.m.) and closes at 10 (p.m.)," Jarrett said. "And then we also have a guest laundry."
A king room has pillow top mattresses, flat screen TVs and LED lighting.
"There's a big push for green engage, that's what we call it, and that's to make sure we're environmentally friendly. All of our hotels minimize the carbon footprints, so that's a big push. Low-flow toilets, low-flow faucets," Sousley said.
The hotel chain also uses bulk amenities to limit waste and use of plastics.
The rooms have Amena motion detectors so once there's no movement in a room for a lengthy period of time, the temperature is reduced by a couple of degrees to save energy. "That goes along with our green engage" he said.
Jarrett said all lights in the hotel are LED, and all the rooms have Keurigs.
Next, they showed a hearing-impaired queen room with a flashing light instead of a room doorbell.
Sousley said, "We're a Select Service hotel, so we don't have as many amenities, but the goal is that it's somewhere where people can come and feel comfortable and bring their family. We have a fast wifi, and all the amenities people need to do business, so they can come and relax."
"It's a home away from home," Jarrett said.
Reservations can be made online at IHG.com, calling 574-549-9400 or emailing Rachel Jarrett at Rachel.jarrett@ighospitality.com.