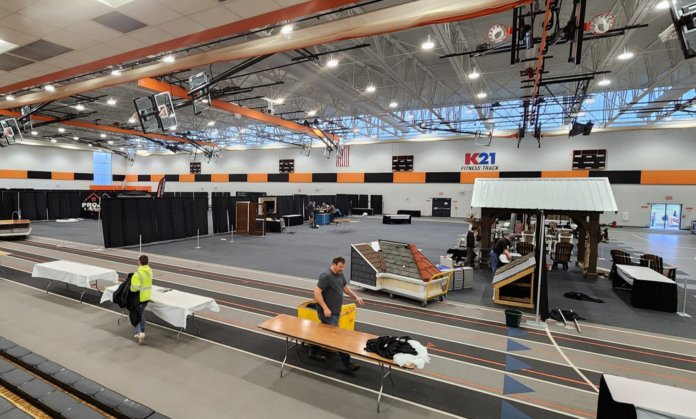 By Dan Spalding
News Now Warsaw
WARSAW — For the third consecutive year, the annual Home and Outdoor Show was held at Warsaw Community High School's TRAC – the Tiger Recreation and Activities Center.
And more and more, the show at the high school's 40,000-square-foot event center is starting to feel like home.
For more than four decades, the home and outdoor show moved from facility to facility with stops in Atwood, the county fairgrounds, a business along US 30 and even the old Walmart in Warsaw. But for various reasons, they've never found a sense of permanence.
The three-day event hosted by Builders Association of North Central Indiana wrapped up Sunday at the TRAC and one of its chief organizers said he thinks they've found a home — "for now."
"It's been a wonderful blessing to have this facility. We feel we're getting some roots now. It helps to have the same location year after year," said Frank Rhoades, owner of Cottage Watchman Security Systems, a longtime supporter of the show.
This year, the show attracted 84 vendors — nearly a 25 percent jump from last year.
One obstacle, though, is that loading equipment in and out of the facility is somewhat complicated because the loading dock entryway is two feet off the ground. That means items have to be loaded onto a truck, which then backs into the loading dock.
Rhoads said they'd like to find a heavy-duty ramp to use for those purposes for future events.
But overall, some of the new vendors expressed satisfaction with the facility.
One of the new participants was Fouce Landscaping, which began three years ago and is seeing continued growth year after year.
Company owner DJ Fouce said they made one sale and had five strong leads by Saturday afternoon.
"That's an awesome day. I figure if we sell one job a week, that's great. But if we sell five jobs in a weekend, that's incredible," Focus said.
Along with a full complement of home products like landscaping, gardening and home improvement, the show featured some other services including a mattress firm and a cutlery company.
Chelsea MacDonald, with Cutco, a company that offers a variety of services, said they also decided to try the show this year.
"We work a ton of home shows and home and garden shows across the state and we saw this one available and we thought, 'we have a ton of Cutco owners in the Warsaw area so why not come out and be there for service and sales and anything they might need," MacDougall said.
Gary Bosek, with Superior Sleep Experience, of St. Louis, said they rely heavily on trade shows and home shows and liked what he saw. He said visitors were very friendly.
Mattress sales at a home show? Make sense to Bosek.
"You can't do anything with your home unless you're getting a good night's sleep. If we live to be 100 years old, the average person spends about 30 years of their life on a mattress so it's really important to get that right," Bosek said.
The Builders Association of North Central Indiana now takes its home show to Plymouth next weekend at The Zone Sports Complex on VanVactor Drive on Saturday and Sunday.