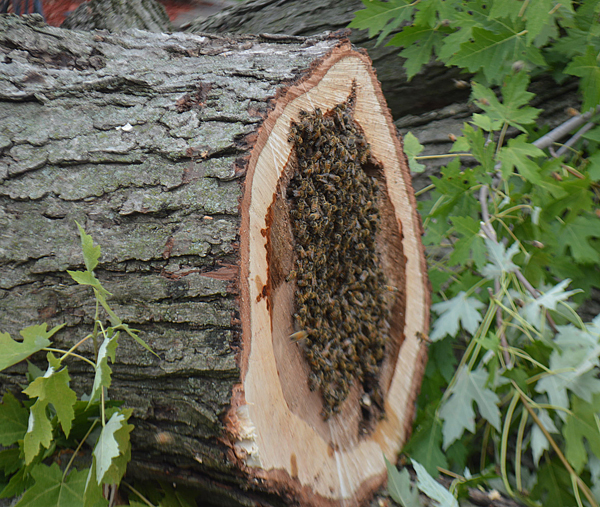 A hive of honeybees was relocated Tuesday after it was found inside an East Main Street tree in Warsaw.
Originally believed to be a very large hornet infestation, the 900 block of East Main Street was closed around 1 p.m. Tuesday due to the large number of bees for the public's safety. Residents in that block were notified of the bees, Public Works Superintendent Dustin Dillon said.
"We had a tree service that was cutting down trees for the city. We had five or six trees for them to cut up and they called when they were taking this one down, so they got into what they thought was a hornet's nest. And then, after a little bit further investigation, we found out it was honeybees," he said.
Ace Pest Control was called. After looking at the hive, Ace Pest Control confirmed they were honeybees and a beekeeper was contacted to help remove and relocate the bees because honeybees are protected.
According to the Center for Biological Diversity, more than half of North America's 4,000 native bee species are in decline, with 1 in 4 species at risk of extinction. Bees are an essential part of agriculture, pollinating many fruits, nuts and vegetables, according to The Honeybee Conservancy. Their health directly impacts food security.
Bee hobbyists Rick and Craig Owens worked to relocate the honeybees on Tuesday.
Craig said, "We screened over all the possible entrances and we're going to take them home and relocate them into an actual bee box. They should live happily ever after."
The bees that remained will eventually leave on their own.
"Three or four days, they should dissipate. All the foragers that are still out, they're going to come around. I might come back later tonight and see how many stragglers there are and if I can capture them, I will capture them," Craig said.
He estimated the bee hive has been in the tree several years based on some old honeycomb that was found inside a part of the tree that the bees were no longer using.
"You can tell that it's been here a while because the bees move when the comb's no good to them anymore. They can't just take the comb out so they keep building new in the tree until there's nowhere to go," Craig said.
The tree was already hollow and the bees just made it into their hive.
"I'd be surprised if there wasn't more trees around here that had bees in them just because the colony will swarm and have other colonies every spring," Craig said. "Ninety percent of the time the bees will leave you alone, but, obviously, they're stirred up today."
Following the removal of the bees, Main Street will reopen, according to a news release from the city, but the sidewalk on the north side of the road will remain closed until the tree trimming is complete.
Dillon said he would leave the tree for a couple days to give the bees time to move on, but then the logs will be taken away.