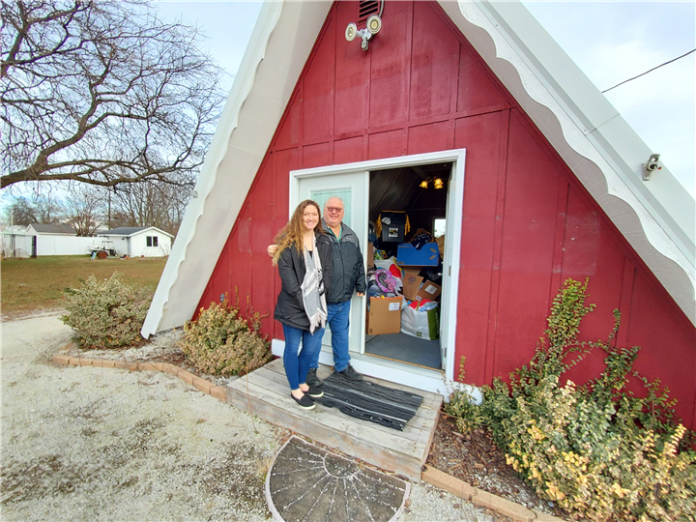 LEESBURG – The owner of Stacy's Restaurant and his daughter are collecting money and relief items to help tornado victims in Kentucky.
Madison Haines, a senior at Manchester University and daughter of Tyler Haines, owner of Stacy's Restaurant, said one of her track and field team members messaged her Saturday. The teammate is from the Mayfield, Ky., area said his family lost three barns. The family of one of the teammate's church friends, the Brown family, lost everything.
Madison said she and her dad started raising money for the Brown family earlier this week and as of Friday afternoon, said about $600 had been raised.
The Haines are also collecting things like clothes and toiletries for tornado victims. Tyler said they posted the fact they were collecting items for tornado victims on the restaurant's Facebook page and the posts "blew up," Tyler said.
The restaurant's Facebook post notes, "Any size clothes can be donated, and money can be donated, for the Kentucky Tornado victims … whatever the size clothing, it can go to the neighborhood and the town. We will coordinate delivery, if you drop off to Stacy's."
One Facebook user posted, "I feel so much better sending my outgrown items here!" on Stacy's page.
Currently, all the donations of clothes and toiletries are being stored in an A-frame building next to the restaurant.
Madison said they have so many items, some of the piles are large, they're taller than she is at 5 foot 10 inches. Tyler said people from places like Bremen and Bourbon have donated. Madison said people have been bringing things by the car-full. Tyler said most of the clothes are really nice and some of the clothes still have tags on them, Madison said.
Tyler said they have so many clothes, they can't sort through it all, so "we're just going to have to give it to a shelter." When delivering the items to Mayfield, he said they will donate the items wherever they are needed.
Ruch Service Inc., Milford, is servicing the truck that will be used to travel to Kentucky to make sure it's "healthy enough" to make it, Tyler said. Scott McDonald is also donating a 16-foot trailer to help get all the donations to Kentucky.
People also have donated gas money in addition to money for tornado victims and any unused gas money will be donated as well.
Tyler said they are planning on leaving for Kentucky some time Sunday night or Monday morning.
Anyone wishing to donate items can drop them off today at the restaurant. People can also call Tyler's law firm at 574-453-4334 or call Tyler at 574-527-5835 to arrange for a donation.
Tyler said if it's as devastating as it shown in news reports, a lot of people probably lost everything. He also said he doesn't know how people are going to live.
Tyler said as of right now, they are just planning on one trip to Kentucky. If another trip is planned, they will post about it on his restaurant's Facebook page.