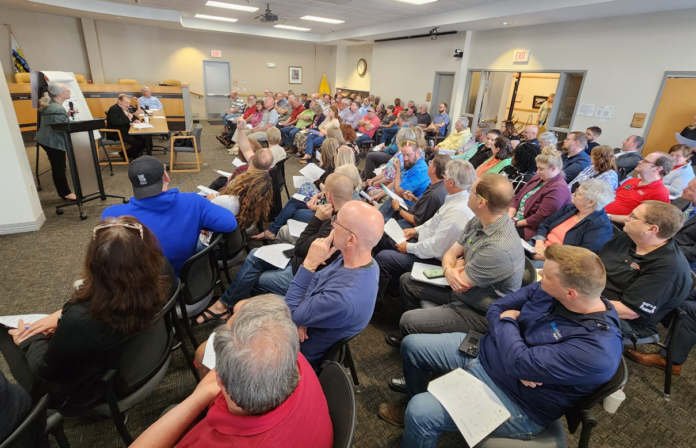 By Dan Spalding
News Now Warsaw
WARSAW — Warsaw city leaders wanted input on the downtown's future direction and they received plenty Monday night.
The 90-minute public meeting, held before the city council convened Monday night, sought ideas on how to improve the downtown and is a follow-up to the Hyett Palma study launched more than 21 years ago that has served as a guiding document for planning purposes.
A large crowd at city hall offered plenty of thoughts during a presentation led by Doyle Hyett and Dolores Palma.
"The good thing to us is you're not satisfied … Good enough is not good enough," Palma said.
"You definitely have a good downtown now. But you want to take your downtown from good to great. And that's what this 2.0 is all about," she said.
The two consultants are in Warsaw this week reassessing where the downtown is headed and meeting with groups before they prepare a new action plan for the city.
The overall tone of the meeting was positive. Many gave high marks for the progress seen in the downtown in the past 20 years — especially the relocation of the city hall from its small confines on High Street to an empty bank building in the center of the city.
Some voiced concern about parking and the need to finish the North Buffalo Street redevelopment that got sidetracked last year after the developer halted construction.
There appeared to be an emphasis on increased walkability and linkage to bike traffic. One woman said she wants the downtown to feel like a Hallmark movie but with more diversity.
There was an air of familiarity and appreciation for what Heyett and Palma have done in the past for the city.
Mayor Ernie Wiggins, who launched the original Hyett Palma report, attended Monday's meeting and is involved in some of the discussions planned for later this week. He said the first plan served as a solid blueprint for the city.
Wiggins said the best thing he ever did as mayor was hire them to do the study.
"You know at one time, we were going to move city hall and move it out of the downtown. Frankly, they said that's a bad idea. I agreed with them," Wiggins said.