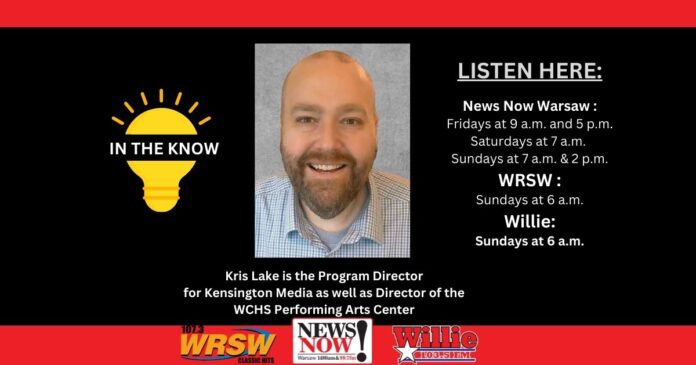 By Dan Spalding
News Now Warsaw
WARSAW — Unbeknownst to many people, Kris Lake, the program director for Kensington Media and the morning voice of WRSW, has an extensive background in theater.
He found a new outlet for that interest through a new side job with Warsaw Community Schools where he was recently named director of the Performing Arts Center.
Lake began serving as the director of the PAC just weeks ago and has hit the ground running by announcing several new programming ideas.
The PAC Opened 17 years ago and seats more than 900 people and is used by various student groups at the high school.
Lake said he doesn't think a lot of the public realizes how gorgeous the theater is and how much potential it offers.
He wants to get more people into the seats.
"That's a big part of what I have been tasked with and challenged with is creating more opportunities to get the community into the space," Lake said.
Lake caught the theater bug as an elementary student when he auditioned for a play and found it interesting.
"Even after high school, theater was a humongous part of my life. Radio happened to be born during all of that at the same time," Lake said. "In a roundabout way, what I do in radio and in theater really blend together in a lot of ways." 
After high school, he was involved in a production of "Oklahoma," when the show's director fell ill and Lake was asked to step in.
"It taught me a different side of the theater world that I didn't know that I needed or wanted and that was to help the creative process of putting a show together."
That led him into a bigger role, eventually directing 56 musicals & plays during his tenure in the Chicagoland area.
The move also led to a better understanding of venue management.
Lake said he jumped at the idea of getting back into theater — alongside his radio job and says the creative juices have been flowing ever since.
"I was making a list of things I wanted to do before I even had the job, in hoping I got the job," Lake said. "Then when I came in, I said.  Oh yeah, by the way, I already made this list so we need to start working on this.' "
Among the items coming up, a Magical Day, which is a fully immersive day of Disney magic for children set for Oct. 7. This is the 7th year for this event. Lake simply added a new grand finale to it. 
That event then leads into a return to movie nights at the PAC with the screening of Disney Pixar's "COCO."
Another big event Lake is planning is a reproduction of War of the Worlds, the famous radio broadcast production that will be put on by theater students on Oct. 30.
"It's going to air live on WRSW and News Now Warsaw … it's going to air exactly 85 years after it originally aired," Lake said.
"I don't know if they've done a radio job like this before, but we're really excited for it," he said.
Other events coming up:
The Theatre Department has announced the production of "My Heart Says Go," with performances set for November 3-5.
Also on the schedule is the 9th Annual, Statewide Young Artist Competition to be held Saturday, Jan. 20.
Lake said he's also planning a program that will showcase local artists and said he wants to incorporate more community involvement.