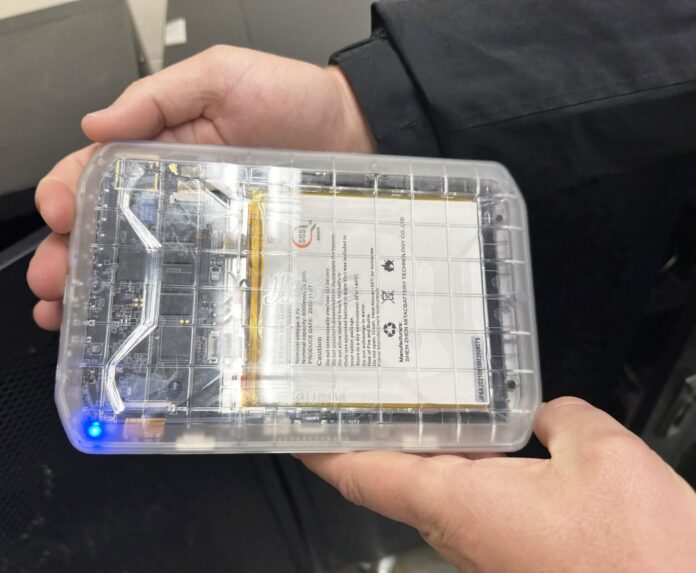 By David Slone
Times-Union
WARSAW — Tablets in the hands of the Kosciusko County Jail inmates are seen as a positive by the incarcerated individuals, jail commander and the sheriff.
On Wednesday, more than 300 tablets were delivered to the jail for inmates to use, at no cost to taxpayers.
Jail Commander Sgt. Kevin Gelbaugh explained, "This is one of the things (Sheriff) Jim (Smith) and I talked about. The administration was trying to get some of these in.
Everybody we talked to said they're a great tool and a great thing for the inmates to have. So we did some checking with some different companies, had a sit-down with them all and wound up going with the same company that we do our phone system with, Securus."
After some negotiations, he said Securus was able to provide what the jail and sheriff were looking for.
"The guys (inmates) in the back knew it was coming because we told them about it, so they constantly were asking, and so they've been really excited," Gelbaugh said, adding that some of the inmates were used to having tablets at other facilities.
Some of the stuff on the tablets are offered for free to the inmates, while other stuff has to be paid for by the inmates.
"It's a third-party system. No tax dollars went into it. There's no tax dollars affiliated with it. Securus takes the whole bill and they pay for all of it," he said. "It is a secure internet service that they provide, and the only thing that they have access to is what is on the iPad. They don't have access to YouTube, any of that other stuff."
Gelbaugh said Securus said no one has ever got beyond the system that is provided in the tablets.
The free stuff on the tablets for the inmates includes over 40,000 books; numerous religious apps, including about 500 free religious Podcasts representing every denomination; local radio station 107.3 because of its proximity; three free nonviolent games; a law library; a opioid addiction documentary, Chasing the Dragon; job search apps; self-help and educational apps.
"Part of the contract that Sheriff Smith did was, (the inmates) get four 30-minute visits a month for free. So, every week they get a 30-minute visit with their family on the iPad," Gelbaugh said.
Anything over that, the inmate has to pay for.
When an inmate is on a visit on the tablet, everything in their background is blurred out. "You can tell there's things behind them, but it's not going to be you walking around behind them. … You have to have a face there, so you can't move the tablet and show something you shouldn't be showing on there," he said.
The jail will still have the wall phone system and the kiosk. Gelbaugh said the tablets are just another piece of the puzzle for the inmates.
If an inmate gets into trouble, their tablet can be shut off, but that will have to be approved by the supervisor on duty.
There are pay apps, but for an inmate to get to them, they have to pay $7.50 off the top. The pay apps include movies, which are rated no worse than PG; games; iHeart Radio; news and television series.
Mail will no longer be delivered to the jail.
"We will not receive incoming mail anymore. It will be returned to the sender. There will be an address provided to all the (inmates) that they will be able to push out to their families so that any mail goes to a third party. That third party will open it, scan it and then it will sent to their iPads," Gelbaugh explained.
He said that will help alleviate attempts of people trying to sneak drugs into the jail, as well as other problems.
The tablets also have an FYI app. It allows the jail staff to send messages to individual inmates, and vice versa. Group messages also can be sent out to all the inmates.
Forms will be on the tablets for the inmates for medical, grievances or other purposes as the jail moves toward going paperless.
Inmates can't talk to one another through the tablets.
Securus is doing all the training, upkeep and providing the tablets. If the tablet is broken maliciously, charges will be filed for criminal mischief. If it was accidental, Gelbaugh said they'll then just replaced at no cost.
"We have a stockpile that we've been provided, and as we go through them, they (Securus) will replenish those stockpiles," he said.
The tablets do not have sound. Inmates have to have earbuds for the tablets, which they can buy out of commissary.
The tablets are passed out after breakfast before 9 a.m., and the inmates have them until about 10:30 p.m.
"We can set the time, so we have them come on at 8 a.m. and they shut off automatically – they just go dark – at 10:30 p.m. And then we will pick them up, put them on charging carts and then they're going to be in a secured area where they're going to charge all night, and then after breakfast the next morning, we will pass them back out," Gelbaugh explained.
Every inmate gets their own tablet.
"You have to be moved back to a block. So, if you come in on an initial charge and you're housed upfront for a day and you're going to bond out, you don't get one then. You have to be moved back to the blocks, or you have to be in administrative segregation or something like that like the infirmary. The only block that will not have them is going to be our disciplinary block where they're locked down," he said.
As of Thursday morning, the jail was housing 272 inmates. The jail received approximately 320 tablets Wednesday, and the inmates got to play with them then. Gelbaugh said they've received pretty good feedback about them so far.
As for what the benefits will be for the tablets in the jail, Gelbaugh responded, "The educational part of it and being able to use it for educational purposes." He said they will be able to put learning material on the tablets for the inmates.
"Right now I think it's endless what we could use it for. We could put some of the JCAP (Jail Chemical Addiction Program) information in there. We could put self-help stuff," he said. "… But the information we can put on there is what I think will be neat."
Victor, an inmate, said, "I think the iPads are a good thing for the jail to keep everybody busy, occupied." He said the music, videos and visits can help make time go by. Without the tablets, he said people would just sit and fight and "get into a little bit more trouble."
Jessica, another inmate, said they're a "pretty awesome" thing to have. "There's a big selection. First of all, they gave us free visits with our family, so not everybody in here has money to be able to visit their family. And they gave us four free visits, so that's a free visit a week, to visit with our family and loved ones and they have a pretty wide selection of books on there and movies. I noticed that everybody was really content yesterday in the block. Everybody was happy. Everybody was getting along."
Chris, who is taking part in JCAP, said he's been in a lot of facilities and "I feel like these are better than anywhere else I've been."
He said there seems to be more free stuff on the Kosciusko Jail tablets for the people who are indigent to occupy their time with. "Things are a little bit cheaper. It's still kind of early, we just got them yesterday, but it seems to be, so far, better than anything I've dealt with before."
Smith said, "We're super excited about finally being able to implement the tablets. I feel that, for numerous reasons, it'll be beneficial for all involved – our staff and the inmates."
He said one aspect that comes to mind are the books downloaded on the tablets.
"For us it's beneficial because we no longer will have actual physical books that we're passing throughout the jail. Like anyone can imagine, you run the risk of things being trafficked the more paper you have running around a jail, so as much as that we can eliminate, we're better off," he said.
Smith said he's happy that the various forms for the jail can be downloaded to help the jail become more paperless.
"I think it will help occupy some time for these inmates. If they use it right, they can get an educational value out of it. Eighty percent of what's on these tablets is going to be free. Now, there's always going to be options for the inmates to add features to their tablets, but no one's going to make them. If they decide to do that, they'll be available for purchase on that," he said.
The headphones will help reduce the noise in the jail, as well as fights and damages.
"I see a lot more positives than negatives," he said, though there will be some bugs to work out and policies to formulate as time goes on. "I think the positives certainly outweigh the negative and we're super excited about this. This is a good step for everyone involved."