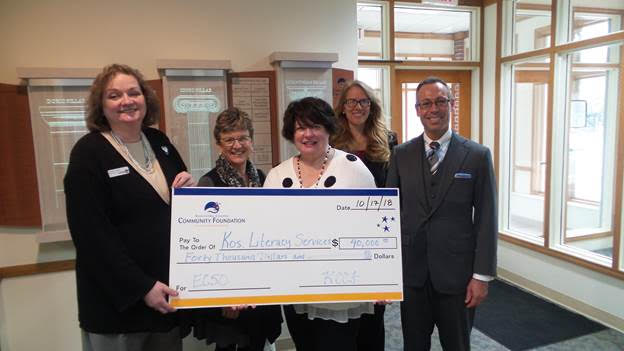 Kosciusko Literacy Services is the third non-profit to achieve a fundraising challenge issued by the Kosciusko County Community Foundation.
They raised $10,000 for their endowment, and will now complete training to receive $40,000 in matching funds.
It's part of the Endowment Challenge 50 launched back in May in celebration of Kosciusko County Community Foundation's 50th anniversary.
RELATED: Kosciusko County Community Foundation launches Endowment Challenge 50
"Literacy Services provides critical programs to both children and adults in our county," said Suzie Light, Community Foundation CEO. "We are thrilled this endowment will provide an ongoing income stream long into the future."
CASA of Kosciusko County was the second organization to complete the first part of the challenge earlier this month, following the Wagon Wheel Center for the Arts in September.
RELATED POSTS:
Wagon Wheel completes Kosciusko County Community Foundation fundraising challenge
CASA completes Kosciusko County Community Foundation fundraising challenge