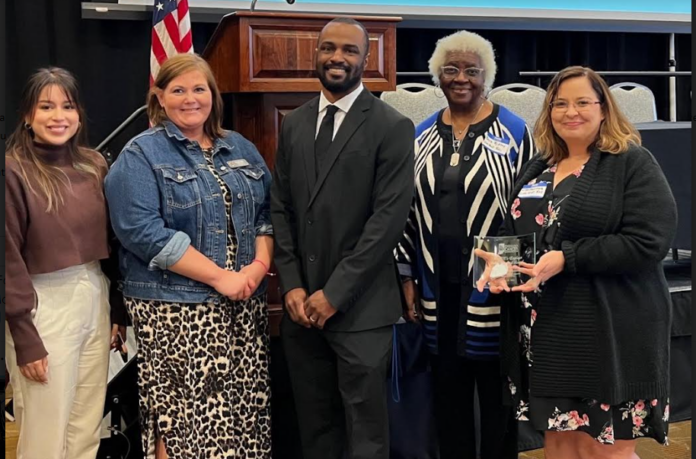 News Release
INDIANAPOLIS — Local health and wellness non-profit Live Well Kosciusko gathered with health leaders and providers across the state at the Indiana Cancer Consortium's annual meeting in late April.
During this time, the organization was presented with the Employer Gold Standard award.
This award is given to organizations that demonstrate excellence in cancer prevention, early detection, treatment, and survivorship. Live Well leads a variety of well-being initiatives in Kosciusko County, Indiana, including the county cancer coalition.
When presented with the award Live Well President and CEO, Lisa Harman, shared:
"Supporting the Kosciusko County Cancer Coalition is an important part of Live Well's mission. The Employer Gold Standard of Cancer Care is a program that helps businesses improve the well-being of their employees. We are blessed that leaders in our community find well-being an important part of workforce and economic development. We are thankful for the support and collaboration of local partners like the K21 Health Foundation, Kosciusko Chamber of Commerce, KYMCA, OrthoWorx, KEDCO, the City of Warsaw, and Kosciusko County Government. We are delighted to receive this recognition from the Indiana Cancer Consortium and look forward to expanding this program to additional businesses in Kosciusko County."
Chief Operating Officer of Live Well, Sandy Vera, added, "Successful are the people who work together to leave the world a better place. Both ICC and Live Well Kosciusko exude a passion for helping others; when Live Well Kosciusko was awarded for working with local employers to focus on primary prevention, early cancer detection, treatment, and survivorship it was an indication that a small group of committed community members and citizens can change the world. It was an honor to be part of the ICC annual meeting."
In addition to celebrating their success, the Live Well team heard from speakers like Laura
Makaroff, DO, Senior Vice President of the American Cancer Society; and Blase Polite, MD,
MPP, FASCO, Professor of Medicine Hematology Oncology at the University of Chicago
Medicine. Each presenter highlighted the impact of the pandemic on cancer screenings and the need for new innovative ways to meet existing challenges across Indiana communities.
Program Director, Jessica Camarena, was also in attendance.
Jessica explained that cancer prevention efforts are integrated into a variety of Live Well programs, including the Breathe Well Coalition; Breathe Well continues to work with employers to implement tobacco cessation programs to decrease the burden of tobacco it causes on individuals and families. Both Breathe Well and the Cancer Coalition work to reduce cancer rates that occur from tobacco use and secondhand exposure.
Live Well Kosciusko remains dedicated to transforming Kosciusko County into a thriving and
healthy community to live, learn, work, play, and visit.
Learn how at Livewellkosciusko.org/.