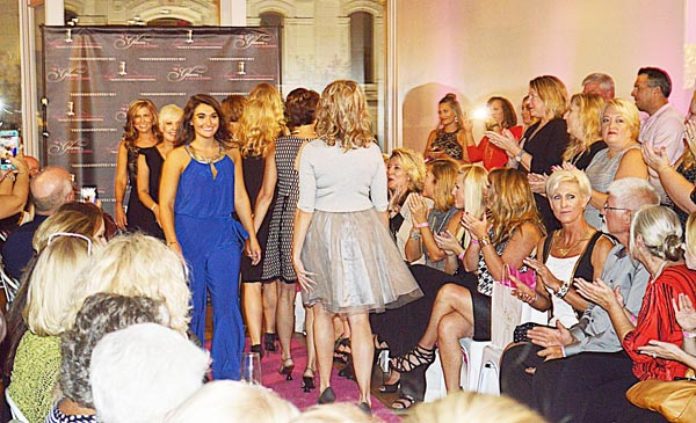 Balancing a celebration with remembering those who have passed on isn't always easy, but that's what more than 100 people did Thursday at Glam 2.0.
The event, held inside The Vic, 112 S. Buffalo St., Warsaw, celebrated the two-year anniversary of Michelle Smith LeDrew's business, Glam, 212 S. Buffalo St., an upscale women's boutique, while also raising money for The Smith Strong Foundation fund.
The fund was created through the Kosciusko County Community Foundation in memory of LeDrew's father and brother, Charlie and Scott Smith, who were killed in an airplane crash Oct. 2, 2015, along with Tony Elliott and Scott Bibler. The fund provides scholarships for Tippecanoe Valley High School senior student athletes who exemplify the values that the Smiths demonstrated in their daily lives.
Charlie was TVHS's first football coach, and Scott was a Valley graduate.
"Glam 2.0: The Second Anniversary Gala" began at 7 p.m. with a social half hour and then prayer. Once everyone took their seat or found their standing spot at about 7:30 p.m., the models began walking the catwalk to thumping music from bands like Coldplay.
After several wardrobe changes, LeDrew was escorted out by two of her sons before the "Glamover" recipient was revealed to be Stephanie O'Brien.
Nominations for the Glamover contest were taken before Thursday's event. The makeover included an outfit from Glam, jewelry from Chapman Jewelers and professional hair and makeup by J Three Salon.
After the fashion show, O'Brien said she got full makeup, her hair done, put on a beautiful dress on her and gave her some jewelry to wear. "So literally everything," she said.
The makeover came as a total surprise to her as she didn't know she was chosen until the day of the event. She was already planned to attend the show with her sister, but then LeDrew called her and told her the news.
O'Brien is a mom with two kids. She's a nurse and works one-on-one with students at Leesburg Elementary School, and also works at Noa Noa Wood Grill and Sushi Bar.
"It's fantastic," she said of the makeover.
After the reveal, a slide show of Charlie and Scott Smith was shown, followed by a surprise slide show for LeDrew.  In the surprise slide show, LeDrew's friends congratulated her on her first two years in business. LeDrew's three boys, Bryce, Zack and Chase, thanked her for everything and told her how much they loved her.
"The Bachelor" stars Ben Higgins and his fiancee Lauren Bushnell also made a video appearance, telling LeDrew they wish they could have been there.  Higgins said, "We really do. But go Smith Strong, and we'll be back, and when we do, we'll stop in and say hi."
After the videos, LeDrew spoke, saying it was hard to grieve especially publicly. "As you know, this has been the hardest year of my life, for me and my family. But as Amy (Delp) said in the prayer, there's also time for celebration," she said.
Through counseling, prayer, her faith and her friends, she said she's been able to carry on.
"I'm so blessed to be a part of my family. They're so amazing. And I'm so blessed that you all are here to support me. Whether you're here for Glam, or Smith Strong or all of the above, seeing you all here in your finest looking amazing – I don't even have the words for it," she said.
LeDrew said she couldn't let her event end without saying, "Thank you. Thank you from the bottom of my heart for loving my family, for praying over us, for being with us, for supporting us, for supporting my business." She thanked her sponsors.
"My dad and Scott's greatest gift was to live life, and know that was my gift to them, is to keep going. And with that, I want you to have fun tonight," she said.
The pop-up boutique was then opened up in the back of The Vic for shopping, and those in attendance were invited to socialize, drink and eat the food prepared by One Ten Craft Meatery.
Twenty percent of all proceeds raised Thursday night from the pop-up Glam shop will go to the Smith Strong Foundation as well as 100 percent of the proceeds from the Smith Strong bracelets.
During their lives, she said her brother and father gave back to so many people. Through the Smith Strong Foundation, she said they will continue to do that.