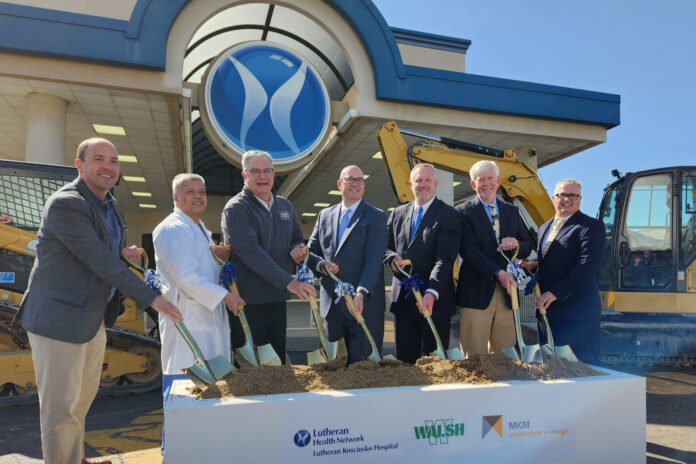 By Dan Spalding

News Now Warsaw
WARSAW — Lutheran Kosciusko Hospital on Tuesday broke ground on a $30 million capital investment project that will be highlighted by expanded surgical services.
Community leaders gathered for a ceremony Tuesday in front of the entrance, which will be one of the areas that will be renovated.
The project entails 25,000 square feet of new construction and renovations; Some of that will include an expanded and redesigned lobby with a new public entrance, renovations to all patient rooms, renovated nursing stations, updates to the facade and new signage that comes with the new name, Lutheran Kosciusko Hospital, which replaced Kosciusko Community Hospital last year.
Changes in the surgical area will provide increased patient privacy as well as more room for family members; renovations to operating rooms will help better accommodate surgeons, and an expanded sterile processing area featuring new technology will allow for faster equipment sterilization, according to information provided by LKH.
LKH is part of the Lutheran Health Network.
Look for a full story and reactions soon at newsnowwarsaw.com.