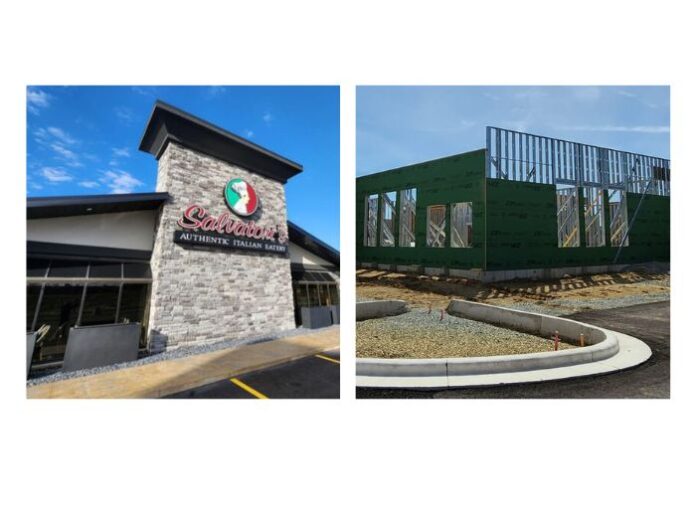 By Dan Spalding
News Now Warsaw
WARSAW — The race between two Italian chain restaurants to open new stores in Warsaw is gearing up.
Owners of Salvatori's Authentic Italian Eatery have totally renovated the old Richard's Restaurant on US 30 and it appears to be close to opening.
The company began hiring for the store a few weeks ago and said in a Facebook post that they were still looking to hire 30 more workers.
Salvatori's has five restaurants in the Fort Wayne area.
Meanwhile, construction at the new Papa Vinos Italian Kitchen on SR 15N is progressing. After a lull in the winter, crews have the basic framework of the building erected.
Dan Fitzpatrick, the CEO of Quality Dining Inc., said they hope to have the store open for business by mid to late June.
Quality Dining operates nearly 180 Burger King restaurants in Florida, Indiana and Michigan; nearly 40 Chili's restaurants in Delaware, Indiana, Michigan, New Jersey, Ohio and Pennsylvania as well as Papa Vino's in Mishawaka and St. Joseph, Mich.
Hiring for the Warsaw store will begin in May and Fitzpatrick said they would like to find about 100 workers.
The store will cater to special events with as many as three private dining areas available. Another room will be set aside for wine tasting, he said.
He said they have a long history of hosting special events.
He sounded confident about Papa Vino's future in Warsaw despite not finishing first in the race to open.
"My comment would be best of luck to them. I'm not here to pound on the tables and tell you ours is going to be better than theirs, but I will tell you ours is going to be really good,"
Fitzpatrick said.
A call left with Salvatori's was not returned on Monday.