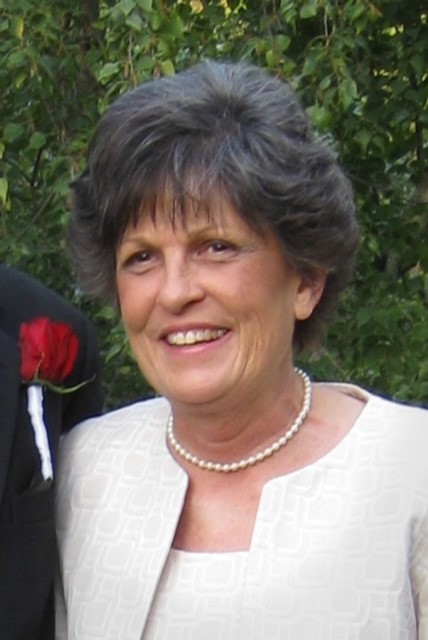 Mindy Jeanne Vandermark of Syracuse, Indiana passed away peacefully, surrounded by her family at 7:58 a.m. on Wednesday, March 30, 2022 at the age of 66.  She fought a courageous 9 month battle with lung cancer and though her family grieves her passing, they know she is no longer suffering and is whole again in her new Heavenly body!
She was born on January 17, 1956 in Goshen, Indiana and raised by her wonderful mother, Jean (Dahl) Rogers.  She attended Wawasee High School.  On August 2, 1991 she married her best friend and love of her life, Bruce Vandermark, they celebrated 30 years of marriage doing everything together.
She was a true animal lover, nearest to her heart were dogs, but she often took in orphan cats, at one point even a boa constrictor. While she was most comfortable at home, she did enjoy an occasional rock concert, the Elkhart county fair, and slow boat rides around the lake. She was always involved in whatever project her husband was working on. She was a giver, and gave unselfishly of herself, and nobody knew that better then her family. She had an ornery streak and everyone was fair game when it came to pranks.
Mindy was no stranger to hard work, her second home was at CTB (Chore Time Brock International) in Milford, Indiana a job she held for 35 years.  She loved her work family and made many friends there over the years. For many years she could also be found working evenings along side her husband, mowing their properties as well as a number of other lawns.
More than anything, Mindy LOVED her family.  She was one of a kind and knew how to love fiercely.  She will forever be missed and remembered as a loving wife, mother, grandmother and great-grandmother.
She will be lovingly remembered by her husband:  Bruce Vandermark (Syracuse, Indiana); two sons:  Tad Vandermark (Milan, Michigan); Ben (Amanda) Vandermark (Nappanee, Indiana); four grandchildren:  Nicole Byrd, Kaden, Lennon and Lincoln Vandermark; and three great-grandchildren:  Aubrie Byrd, Olivia Butler and Grayson Byrd.  She was preceded in death by her mother, Jean Rogers, her adoptive mother, Bonnie "Nine" Workman and her beloved Shih Tzu Kirby, who shared 16 pampered years by her side.
Mindy's life will be celebrated at 1:00 p.m. on Saturday, April 9, 2022 at Redpath-Fruth Funeral Home, 225 Argonne Road, Warsaw, Indiana officiated by Pastor Randall Myers.  Friends and family may visit prior to the service from 10:00 – 1:00 p.m.  Burial will take place at a later date at Oakwood Cemetery of Warsaw, Indiana.
Memorial donations may be directed to Animal Welfare League of Kosciusko County, 1048 S.  325 W., Pierceton, IN  46562; or to Kosciusko Home Care & Hospice, P.O. Box 1196, Warsaw, IN  46581-1196.
Online condolences may be sent through the funeral home's website at www.redpathfruthfuneralhome.com.