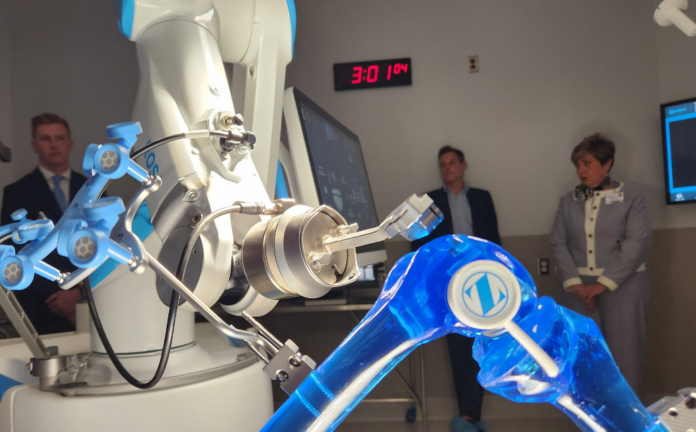 By Dan Spalding
News Now Warsaw
WARSAW — Four years ago, Lutheran Health Network considered the obvious — that Warsaw's hometown hospital and a medical device titan within the orthopedic capital — should be joined at the hip.
That came to fruition in grand style Thursday when Lutheran Health Network unveiled its new orthopedic hospital along US 30 in Warsaw that uses Zimmer Biomet's cutting-edge AI and robotic technology.
The event included speeches, a ribbon cutting and an up-close look at the newest technology via tours of a surgical room designed for Zimmer Biomet's newest technology.
The ambulatory surgery center is the first in Indiana to be outfitted with Warsaw-based Zimmer Biomet's Omni Suite.
The Intelligent Operating Room uses advanced technologies including artificial intelligence capabilities to optimize workflow and minimize manual activities, allowing more time for patient care, according to a news release from Lutheran Health Network.
The center's three operating rooms feature cameras equipped with artificial intelligence (object recognition) capturing key workflow steps: touch screen monitors that display vital information available at the surgeon's fingertips; smart tourniquets that adjust to patients' unique biometrics to provide personalized pressure; and smart knee implant technology that allows surgeons to view patients' post-surgical progress, the company said.
"Given Warsaw's recognition as the 'orthopedic capital of the world,' it was only fitting that we worked with global orthopedic leader, Zimmer Biomet, to bring the industry's most advanced technologies to the residents of Warsaw and surrounding areas," said Lorie Ailor, CEO, The Orthopedic Hospital.
"I am very pleased that this community will have the opportunity to have access to the standard of care that The Orthopedic Hospital is recognized for," Ailor said.
The Orthopedic Hospital – Warsaw Surgery Center will focus on joint replacement and other outpatient orthopedic surgeries and procedures, and is adjacent ito Optimum Performance Therapy, Fort Wayne Orthopedics' medical offices and OrthoStat walk-in clinic.
The celebration included comments from Bryan Hanson, CEO of Zimmer Biomet, who began by taking a shot at his biggest global competitor, DePuy Synthes, the Johnson and Johnson subsidiary headquartered just to the west of the new surgical center.
He then referenced Ashley McEvoy, the worldwide chair of the medical device subsidiary, J&J Medtech.
Hanson pointed out that there are no J&J products in the new surgery center.
"I'm going to take a picture of that and the location of the surgery center and I'm going to send it to Ashley, who is the chairman of J&J on the Medtech side, (and) I'm going to say, "Where are you?' "
"That's just for fun," he added.
On a more serious note, Hanson also pointed to the ties between the company and community.
"We truly do feel like we are an ingrained part of this community. As a result of that, we want to make sure we are doing more every day to be part of the community," Hanson said.
"I can't see any better way to do that than to be a partner of … a world class surgery center right here in Warsaw, Ind. – our home," he said.