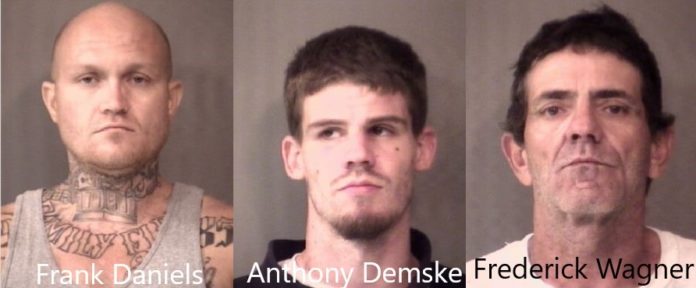 A drug bust in Warsaw has resulted in the arrests of three people.
The Warsaw Narcotics Unit saw what looked like a drug deal taking place in front of Shamrock Trailer Court off of Anchorage Road Thursday night.
Police pulled over one of the vehicles after seeing it turn down a dead end road at a high rate of speed. Officers say the suspects switched seats after being pulled over. Three adult men and a 19-month-old were in the vehicle.
After a K-9 made a positive indication on the car, police confiscated 12 grams of methamphetamine, several grams of marijuana, synthetic marijuana, controlled schedule IV pills, and digital scales with residue. Police say a bag of paraphernalia was next to the young child in the car seat.
Investigators also located a loaded handgun and a taser.
32-year-old Frank Daniels of Warsaw, 26-year-old Anthony Demske of Bourbon, and 51-year-old Frederick Wagner of Warsaw were arrested on dealing and possession charges. The 19-month-old was turned over to Child Protective Services.