By Dan Spalding
News Now Warsaw
WARSAW — With Monday's selection of Barry Andrew as the new Winona Lake Town Council member, the Kosciusko County Republican Party reached a milestone in the number of caucus appointments made under GOP County Chairman Mike Ragan.
In Ragan's seven years and three months as chairman, he's now overseen 40 caucus appointments ranging from commissioner to sheriff to township representatives.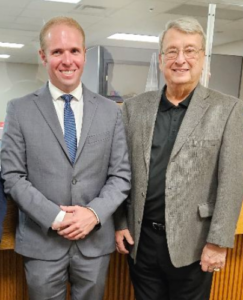 Party officials believe the pace is bigger than normal, but can't put a finger on the reason.
Most commonly, the need to replace an elected officeholder happens due to a death or when an official moves out of their district. That was the case when a county commissioner moved down the road to a new home and didn't realize it crossed a boundary line.
Rarely does it happen under a cloud of animosity, which was the case when Winona Lake Clerk-Treasurer Laurie Renier stepped down immediately last month.
Her resignation required a caucus to replace her and another for the seat of a council member (Heather James) whose seat was vacated when she moved into the clerk's job
The caucuses are overseen by Ragan and Party Secretary Austin Rovenstine. The votes used to determine who is selected are normally provided by precinct committee members who represent the unit of government from which the vacancy exists. In some cases, when there's a lack of available precinct committee members available, Ragan has stepped into that role himself.
Ragan disputes the contention made by some that Republicans use caucuses to line up  preferred candidates as openings become available.
"Other parties have their opportunities in their election times, and circumstances happen in people's lives and they leave office for numerous reasons. It's only natural that the party that loses the candidate gets to replace the candidate," Ragan said Tuesday night.
The need for caucus appointments often comes in spurts and sometimes Ragan has had to juggle numerous unrelated vacancies at the same time.
He currently has none that are in the works.
He said he doesn't get tired of the work.
"No, it's one of my favorite things," he said.
Up until last month, Winona Lake and Sidney were tied for the most caucuses during Ragan's tenure. With recent changes in Winona Lake, that town has now had the most appointments under Ragan with six, according to Rovenstine.
During his seven years, Ragan said every town in the county except Warsaw and Pierceton has needed a caucuses.
Monday's caucus was also unique in that the new office holder, Andrew, was the first toof the 40 appointees to head directly into an executive session for their new board moments after the appointment was official.