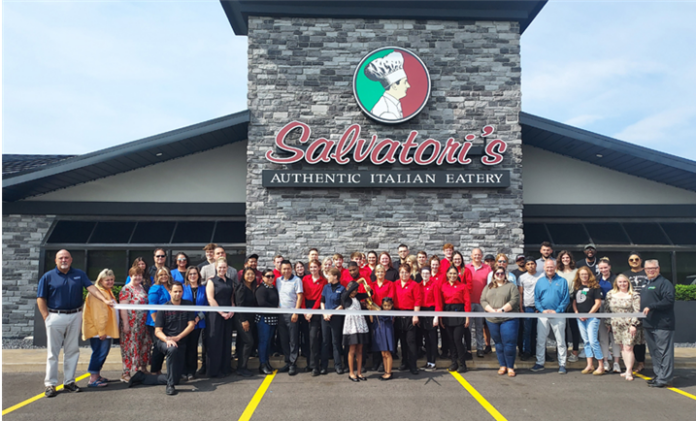 Jackie Gorski
Times-Union
WARSAW — People can now officially patronize Salvatori's, 3605 Commerce Drive, Warsaw.
The restaurant celebrated its grand opening Friday with a ribbon-cutting held by the Kosciusko Chamber of Commerce. It also had a soft opening Wednesday.
For someone who is not familiar with Salvatori's, co-owner Jeremy McClain said it is an authentic Italian eatery that serves Sicilian Italian-style food like salads, pizza and pasta. One of the restaurant's signature items is its spaghetti supreme.
The restaurant will offer online ordering in the next seven to 10 days. After that, McClain said customers will be able to order food through DoorDash. At this point, the restaurant wants to absorb as much walk-in sales as possible.
The Warsaw restaurant is the sixth location for Salvatori's.
Salvatori's is where Richard's Restaurant used to be before it closed. McClain said the property was purchased about 1-1/2 years ago.
McClain said renovations have been done, including the plumbing, electrical renovations and a new dining room.
He said he appreciates the warm reception from the community and all the hard work that went into opening.
McClain said Salvatori's wants to be a net contributor to the community instead of a net consumer. The restaurant wants to make partnerships with other organizations in the community.
The restaurant currently has 62 employees, but McClain said they hope to have about 75 employees.
Hours are Sunday, Tuesday, Wednesday and Thursday, 11 a.m. to 9 p.m.; and Saturday and Sunday, 11 a.m. to 9:30 p.m. The restaurant is closed Monday.