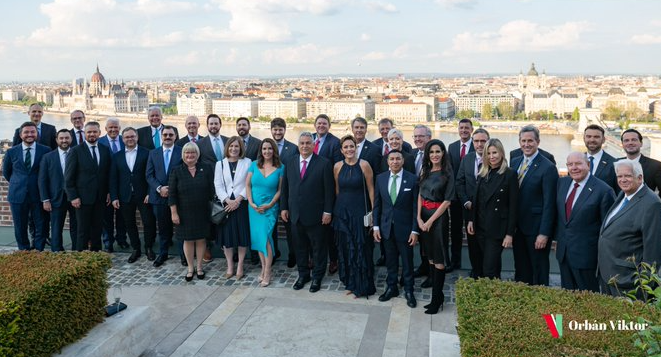 INDIANAPOLIS — Indiana Secretary of State Diego Morales jetted to Hungary last week to speak at a right-wing conference, but it wasn't on the state dime, according to his office.
The Conservative Political Action Coalition has hosted annual conferences in the United States for decades, but went global last year with a Hungarian edition — and continued this year on Thursday and Friday. Organizers billed it as "the world's preeminent international conservative gathering" on a dedicated website.
"As a Conservative Republican, I was proud to be invited to speak at CPAC," Morales wrote on his campaign Facebook page. He spoke during the "Make Kids Not War" segment of the event, according to the agenda.
The schedule featured a video message from former Fox News host Tucker Carlson during a "No Woke Zone" panel. Unsuccessful Arizona gubernatorial candidate Kari Lake spoke in person, as did several other American conservatives. Rightist leaders from Hungary, Georgia, the Czech Republic also delivered remarks.
Morales' activities drew sharp criticism from Hoosier political opponents.
"What in the world is Diego Morales doing?" Indiana Democratic Party Chairman Mike Schmuhl said in a statement Monday. "Indiana held municipal primary elections less than a week ago, military ballots are still arriving, and several races were incredibly close, yet Indiana's top election official decided to jet off to a political conference in Eastern Europe for a photo op with (Hungarian Prime Minister) Viktor Orban."
"Working Hoosiers deserve elected officials that represent the best in Indiana, stick around and do their job during critical times," Schmuhl added, before rebuking Morales for other controversial moves.
Morales' office said he took personal time off Thursday and Friday to attend the conference, and that no other state staff attended and no agency or taxpayer money was involved.
"It was paid through private funds," spokeswoman Lindsey Eaton said in an emailed response Monday.
Asked how the trip was related to Morales' official duties, Eaton said, "The role of a public official such as the Secretary of State includes interacting with and learning from diverse communities and constituencies, as well as sharing information about our state."
Orban, a champion of what he calls an "illiberal democracy," spoke of battling "woke culture" in his keynote speech Thursday, according to the Associated Press. For him, that has included promoting conservative Christianity while cracking down on Muslim migrants and LGBTQ people, among other initiatives.
* * *
The Indiana Capital Chronicle is an independent, nonprofit news organization dedicated to giving Hoosiers a comprehensive look inside state government, policy and elections. The site combines daily coverage with in-depth scrutiny, political awareness and insightful commentary.
You can read the original version of the story here.