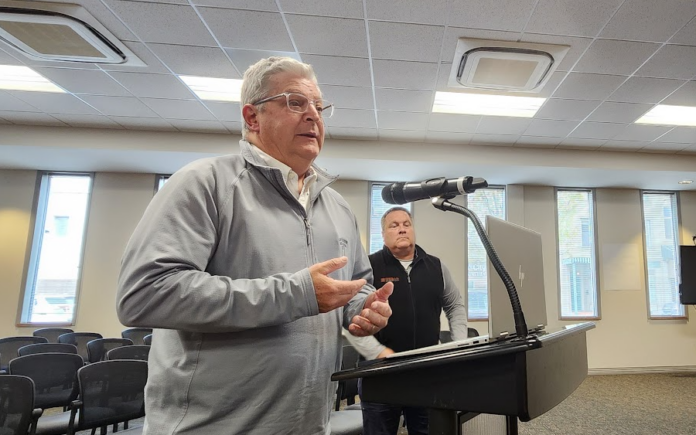 By Dan Spalding
News Now Warsaw
WARSAW — Warsaw Mayor Joe Thallemer has no plans to slow down during his final seven months in office.
Thallemer chose not to seek a fourth term in office and city councilman Jeff Grose appears headed toward election as the city's next mayor.
A few weeks ago, Thallemer bristled at the idea he would be letting his foot off the gas or that he's a lame duck.
The Republican mayor says there are too many projects and initiatives for him to slow down.
One of his biggest accomplishments now appears to be the elimination of all major blight in city limits.
"Heaven's no," Thallemer told News Now Warsaw about his pace of work. "I'm bursting to the finish line. No lame duck here."
Story continues below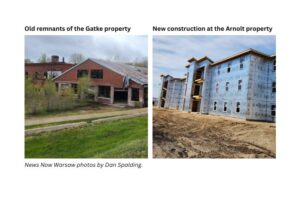 Construction of an apartment complex has replaced the old Arnolt industrial site along Argonne Road and a week ago, the city announced plans in which a multi-use development with more apartments a few blocks away will replace the rusty remains of the Gatke site further to the south on Argonne.
The two properties have been an industrial blight on the east side of the city for decades.
Thallemer admitted the two projects have been a long time coming, but thinks both could bolster that side of town.
"I think they'll both be catalyst projects that will hopefully kickstart future projects," Thallemer said.
The mayor says another project — the development of the old Owens property == could move forward with a new plan being unveiled within the next two months.
The city is also delving into an update of its downtown vision and will host a public meeting on Monday as the city seeks public input. The meeting starts at 5:30 p.m. at the city hall.
All of that comes as the parks department moves into a new office building and awaits completion of the renovated Zimmer Biomet Center Lake Pavilion and a recreational trail at Center Lake later this year,
Thallemer has entered a somewhat awkward phase of his mayoral career. He's already being publicly recognized for his work in city hall while also watching a longtime ally, Jeff Grose, receive good wishes as he looks more and more to become the next mayor beginning in January.
Thallemer seems to be taking it in stride while remaining focused on getting more done.
"Things are going to continue to happen when I'm gone," Thallemer said.
"It would be a disservice to the next mayor for me to slow down right now. We just need to keep moving as these projects and opportunities come available."