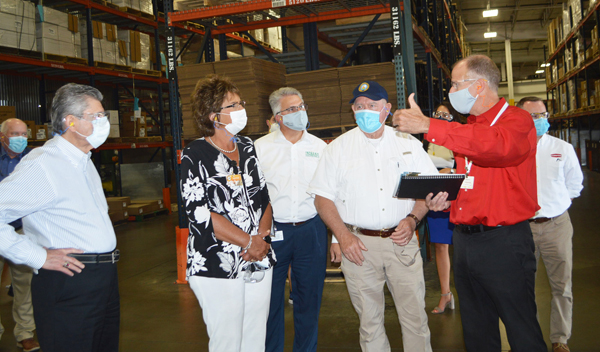 U.S. Secretary of Agriculture Sonny Perdue, Congresswoman Jackie Walorski (2nd District) and Indiana Director of Agriculture Bruce Kettler participated in a town hall meeting Friday on agricultural and manufacturing issues.
The event was held at CTB Inc. in Milford after the three were given a tour of the facility.
Perdue came to Milford to "not really to talk, but to hear from" the constituents here and "we're hearing what's working and what's not, what we're doing we shouldn't be doing and what we're not doing what we should be doing …," he said.
Tim Haynes, of American Dairy Association of Indiana, was concerned about food service to schools with the COVID-19 pandemic.
Haynes said he feels Dairy Checkoff is doing really well and would like to see that continue. The Dairy Promotion Program, or National Dairy Checkoff, is a U.S. commodity checkoff program for dairy product promotion, research and nutrition education as part of a comprehensive strategy to increase human consumption of milk and dairy products and to reduce dairy surpluses, according to online information.
"We're finding that anyone who is going virtual schooling right now, we really can't service," Haynes said.
The association needs help in moving off some of the restrictions regarding who they can serve through the pandemic and through the summer. He said one school district of 3,600 students serves well over 12 million meals.
"I'd hate to say it, but with more and more schools having to go virtual – we're at 20%. And we're basically not able to service that 20% right now," Haynes said.
"The good news is your congresswoman is already ahead of you," Perdue said.
A topic of discussion in Congress is to allow the flexibility to service returning kids in a virtual situation. "I'm really proud of our food nutrition service," he said.
Perdue talked about the Farmers to Families Food Box Program, which has distributed more than 20 million food boxes in support of American farmers and families affected by the COVID-19 pandemic.
He was visiting Kalamazoo (Mich.) Loaves and Fishes earlier Friday, which is one of the USDA's partners in Michigan helping feed American in need through the USDA's Farmers to Families Food Box Program.
A lot of half-gallon and gallons of milk were handed out that way. The cold delivery process with cold milk is a challenge, Perdue said.
There are programs for delivering meals that work really well that were processing as much milk as they did during the school year before the pandemic, Haynes said.
Walorski asked for Haynes' information and said this topic has been a huge issue for her overall and she would like to get some additional information to Perdue as well.
Steve Smith, senior director of agriculture of Red Gold and former member of the USDA Fruit and Vegetable Advisory Board, talked about the packing season.
"We're in the midst of our packing season and have real concerns about what could be the effects of a COVID outbreak," Smith said. He said they've only got 60 days to do their entire year's production. The labor process is a real concern, too.
He said the coronavirus assistance program has helped a lot of people, but said that one group that got left out of the program was the process specialist industry.
"We haven't lost any produce or anything yet to the COVID," Smith said. "If we were to have to shut down our factories, it would be a devastating loss for our growers and for consumers not having a product."
Red Gold had to cut their growers' contracts when COVID hit due to the disruption in food service and the growers didn't receive help "in that sort of thing," he said.
Smith asked if there was a way for the specialist industry to be put on par with the commodities.
At USDA, "we've had a lot of comments about processing," Perdue said. "But the food processing business has a very wide, deep but expensive hole, you know, there."
The USDA has everything from textile mills to saw mills needing help, Perdue said.
The best way to support the processors is to support the growers, Perdue said.
From the meat packing industry, the biggest challenges came – but didn't originate in – the plants, demographics and the living conditions that existed there, he said. You've got to help keep people separated and safeguarded there.
"You've got to help educate" people to help safeguard against safety concerns, "because you need them and we need them to do that," Perdue said. There are things that help keep them safe, such as masks.
Perdue made an analogy to college campuses. If they throw a big football party, then the school can't keep the students safe in the classroom.
"Workers are the same way. It's what happens on the outside of the workplace as much as inside the workplace," he said.
Smith said he agrees with that and has been trying to address that.
The food chain was also a topic of discussion.
Kendall Culp, livestock producer, talked about the fragility of the food chain.
"Indiana has two hog processing plants and, unfortunately, both of those shut down to COVID at the same time," Culp said. It really showed the fragility of the food chain.
The plants had plenty of capacity, but they had to shut down. And when plants can't logistically get the product to the marketplace, it's an issue.
Culp thanked Perdue and the Trump administration for reopening those plants across the country. Culp asked if there were any ideas of how to protecting the food supply chain.
Perdue said that has been the topic of discussions. He brought up the fact that Trump implemented the Defense Production Act through executive order.
"We've never had to implement that," Perdue said, noting it was a tool that the government could use if needed.
He suggested some corporations think about some co-operatives in processing that they can participate in.