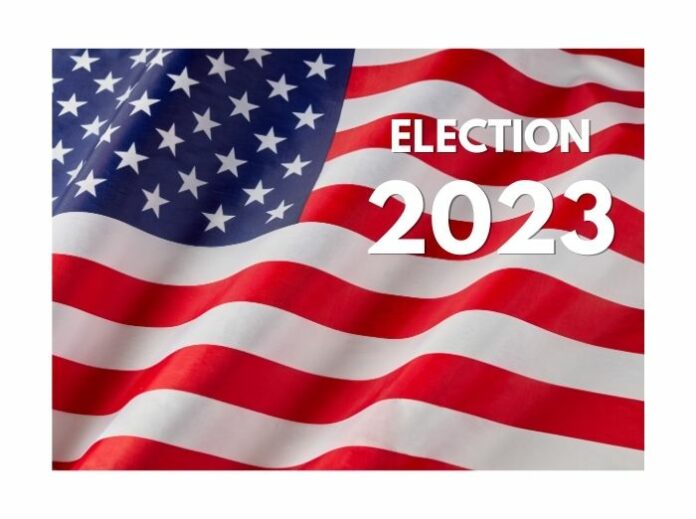 Staff Report
WARSAW — The small-town candidate filing period ended at noon Tuesday, resulting in only four political party town conventions to be scheduled and four town elections on Nov. 7.
The dates of the town conventions are to be determined by the Republican and Democratic parties.
The town that will have a Republican town convention and a town election is Claypool.
For Claypool, the Republicans filing for the town council include Benny R. Stage Jr., North district; Eugene Warner, South; and Nate Morton, Center. The Libertarian who filed for town council is Paul Mullins, North, while the Democrats who filed were Elizabeth Heiman, Center, and Dave Morgan, South.
A Republican town convention is necessary in Claypool because two Republicans filed for town clerk. They are Nicole Miller and Miranda N. Stage. Whoever wins that race will face off against Libertarian Patricia Warner.
The town that needs to have a Democratic town convention and town election is Sidney.
There are four Democrats seeking a seat on the Sidney town council, which is why a Democratic town convention is required.
Those hoping to fill one of the three positions on the board are Brandon Allen, Jackie Leroy Wolfe, Rebecca Adams and Gavin Parrett. Winners will face Republican Sharon Rancourt in the Nov. 7 town election.
Town clerk and Republican Lisa Parrett is unopposed.
There will be a Republican town convention for Pierceton, but no election in the fall because six Republicans are seeking seats on the three-member town council and two Republicans are seeking the clerk-treasurer position. No Libertarians or Democrats filed.
Seeking the council's seats are Gordon Baker, Chauncey Smith, Glenn E. Hall, Steven Eric Trump, Greg Chism and Matthew Brubaker. Hoping to fill the clerk's position are Myra Mast and Jerry F. Kreger.
Towns that will not have a town convention but will have a town election are Etna Green and Mentone.
While Patricia Cook is the only person running for the Etna Green clerk-treasurer job, Republicans Keith A. Claassen, Jason W. Hanes and Heath Roberts have to run against Libertarian Susan Klinefelter.
For Mentone, there are two Democrats and two Republicans vying for the three seats on the council. The Democrats are Tim Croy and Hannah Beliles, while the Republicans are Shelly Krueger and Jill Gross.
Amanda Yaprak, Republican, is the only candidate for clerk.
Towns that will not have conventions or general elections include Silver Lake, Leesburg and North Webster.
The candidates who filed for Silver Lake were Republicans Nichole Taylor, Gloria Jean Weller and Medard Hugh Murfin, all for town council; and Republican Tonya Conley for clerk-treasurer.
Incumbents will retain their seats in Leesburg, including Republicans Thomas D. Moore, Mitch Rader and Christina Archer for town council; and Democrat Michael D. Searfoss for clerk.
North Webster incumbents also will retain their positions, including Republicans Dan Thystrup, Lisa Strombeck and David Waliczek on the council and Democrat Leigh Anne Jessop as clerk-treasurer.
No one in Burket filed for the election by the deadline, which means the current candidates will continue to hold their town council seats and clerk-treasurer position for another four-year term. The council currently includes Bill Rayburn, Cindy Warstler and Lena Ball. The clerk-treasurer is Katina Webb.
Winona Lake and Syracuse had May primaries but will not have elections this fall as there are no opposing candidates against the Republicans who won in May.
The sole race for Winona Lake in May was for the clerk-treasurer race, which councilwoman Heather James won over incumbent Laurie Renier.
Three Winona Lake Town Council seats up for election this year were unopposed and will be occupied by Barry Andrew for District 4, Ashley McGinnis for District 2 and Austin Reynolds for District 1.
There were two races in Syracuse – one for clerk-treasurer and the other for town board Ward 4 seat. Incumbent Virginia Cazier held off councilman Larry Spiegel for the clerk's job, while Nathan Scherer held off David Rosenberry and Brian Woody for the council seat.
Two other Syracuse Town Council seats were up for election this year, but incumbents Cindy Kaiser for District 3 and Bill Musser for District 5 were unopposed.
The city of Warsaw did not have a primary because there were no contested races and will not have a fall election because there were no challengers who filed to run against the Republicans in November.
Councilman Jeff Grose is the only person who sought the Warsaw mayor job after Joe Thallemer announced he would not seek re-election. His District 1 seat on the council will be filled by Juergen Voss.
All six other council members returning will be Jack Wilhite, Cindy Dobbins, Diane Quance, Mike Klondaris, Jerry Frush and Josh Finch.
Lynne Christiansen is the city's clerk-treasurer ended at noon Tuesday, resulting in only four political party town conventions to be scheduled and four town elections on Nov. 7.
The dates of the town conventions are to be determined by the Republican and Democratic parties.