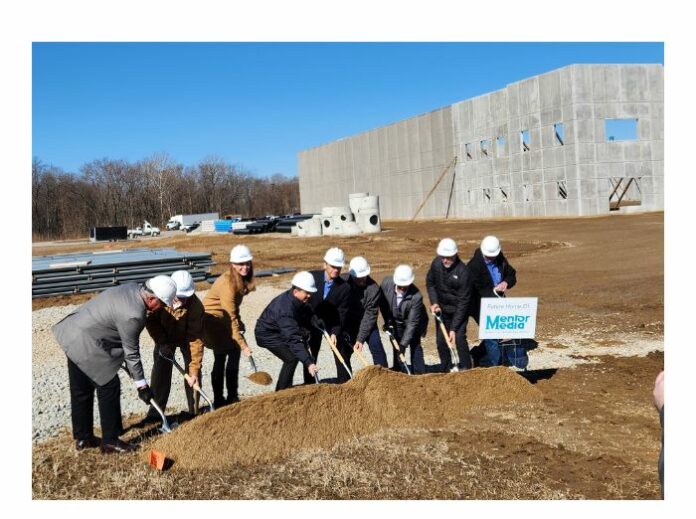 By Dan Spalding
News Now Warsaw
WARSAW — For the second time in a year, Warsaw has landed an overseas company intent on inserting itself into the United States medical device market.
Representatives from the city and Kosciusko County welcomed its newest orthopedic-related company with a groundbreaking ceremony in the Warsaw Technology Park along U.S. 30 Wednesday morning.
Mentor Media, a Singapore-based company that specializes in – among other things –  sterile packaging, will soon occupy part of the future 100,000-square-foot shell building currently under construction in the tech park.
Mentor Media plans to use 30,000 square feet of the building initially and hopes to be operational by September, according to Kok Khoon Lim, president and chief executive officer.
The company said they will begin with about 50 employees in the first three years.
Juergen Kline, who oversees Mentor's Global Medical Device Business, said they are positioned for strong growth.
The company has advanced its sterile packaging standards to meet future medical device regulations that have been embraced by the European Union, which has, in turn, forced the global market to adjust.
As a result, Mentor Media now offers sterile packaging with a 10-year shelf life for its products, which the company said is double what is currently available in the United States.
The company hopes to capitalize on that advantage.
"This is a huge goal. Nobody has ten-year shelf life already and we offer it," Kline said. "I think it will be very successful. We see a lot of employment (in) the next years,"
Mentor Media is part of Elanders Group, which started out chiefly as a printing business but then began to diversify. In 2014, it acquired Mentor Media.
Overall, Mentor Media is known for providing comprehensive supply chain services customized to meet each client's needs, according to its website.
Just a few years ago, the company branched into the healthcare sector and sterile packaging.
"We were then kind of looking at orthopedics as one of the focuses, and this is the orthopedic capital of the world," Lim said excitedly. "I cannot be wrong choosing this location to start – right?"
"The majority of the companies we wish to do business with are all right here," he said.
The company already has a presence in California, but the venture into sterile packaging in Warsaw marks the first in the United States.
The company's arrival is another big victory for city officials who have now attracted three companies that specialize in orthopedics to its tech park in the past seven years.
Banner Medical arrived in 2016 and Medartis, a Swiss-based company, acquired Nextremity Solutions last year – just months after Nextremity had moved into its headquarters in the tech park.
The city has worked with the developer, West Hill Development, to set the stage for growth in the park by constructing several shell buildings and expanding utilities.
Warsaw Mayor Joe Thallemer said the city has seen six companies move into the park since 2013 and three of those firms have since expanded.
Thallemer said Mentor Media's choice of Warsaw gives them an opportunity to grow their business a lot quicker than if they had located somewhere else.
Growth of the park coincides with the continuing evolution in orthopedics, he said.
"All these companies need support industry. It just begets that type of growth in this community. It's all very symbiotic — if you will," Thallemer said. "They need each other." 
Alan Tio, executive director of Kosciusko Economic Development Corporation, said KEDCo identified the need for sterile packing as a third-party service in Warsaw and has been working to attract a company that specializes in it for several years.
Tio said they've spent time building contacts and introducing prospective clients to some of the existing companies. 
In return, Mentor Media became confident in what the community could offer, Tio said.
Sterile packaging, he said, had become "an important capability that's been missing."
According to a news release from KEDCo, Mentor Media will offer "a full suite of supply chain services including sourcing and procurement, operations management, customer service, warehousing, and global distribution services."
A representative of the Indiana Economic Development Corporation (IEDC) also attended the groundbreaking ceremony.
Based on the company's job creation plans, the IEDC committed an investment in Mentor Supply Chain USA Inc. of up to $750,000 in the form of incentive-based tax credits and up to $75,000 in training grants.
The tax credits are performance-based, meaning the company is eligible to claim incentives once Hoosiers are hired.