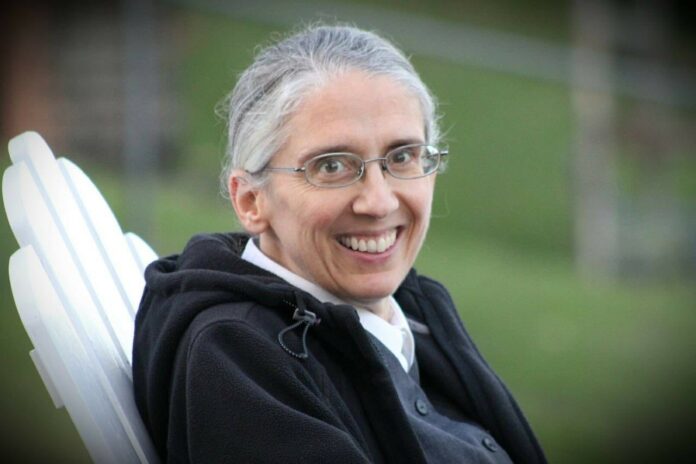 After several months of severe illness, Sister Linda Rae Sechrist passed peacefully from this world to the next in the early morning hours of Saturday, January 22, 2022 at the age of 55.
She was born on September 28, 1966 in Columbia City, Indiana to the union of Calvin Ray Carlin and Mary Elizabeth (Enders) Carlin.  Sister Linda was the epítome of an American hometown girl living her entire life in the heart of the Midwest, Northern Indiana. She attended Whitley County High school where her young and energetic spirit caused her to lift up her voice with rousing cheers as a cheerleader for the home team.
Intelligence, zeal, and unwavering determination carried her through post-secondary education at IPFW. There she earned her Bachelor of Business degree and entered into the workforce as the consummate modern businesswoman.
On September 30, 1989, Linda married the only man she ever loved, her high school sweetheart, Scott Dawson Sechrist. To this union were born five beautiful children—Joel, Zachary, Nathan, Anna, and Abigail.
Sister Linda was wonderfully saved from sin in the year of 1992 and took her stand with the Church of God in 2004.  Her mother's heart would not permit others to care for her children.  She, therefore, forfeited her business career, the promise of upward mobility, and what is known as "The American Dream" to pour all of her love and energy into the rearing of her children.  She showed the world the dignity of being a wife, guiding her home, loving, nurturing, and educating her children.  She showed us the pattern of how independent, educated, and capable women ought to be wives and mothers.  She joyfully submitted to her man, the love of her life, soul mate, and husband, Brother Scott Sechrist, lovingly assisted her in this endeavor.
These were the qualifications of a minister, and she was called by God, began to preach, and was ordained in 2018. She was very passionate about real womanhood and preached a strong message about true women's liberation that will live on though she has gone to be with the Lord.  Sister Sechrist was, Sister Sechrist IS a mother to be cherished, not only by her family but by all who knew her and those who will be touched by her labors.
Sister Linda will be very deeply missed by her family, friends, and all the saints. She was preceded in death by her father Calvin Ray Carlin on July 24, 2021.  She is survived by her husband, Scott Sechrist (Claypool, Indiana); five children, Joel (wife Lisa), Zachary (wife Suzanna), Nathan (wife Rebecca), Anna, and Abigail; and five grandchildren, Stephanas, Ashley, Caitlin, Ashlynn, and one on the way.  Also surviving is her mother, Mary Carlin (Pierceton, Indiana); and her brother, Todd (wife Sarita) Carlin (Warsaw, Indiana).  Although we grieve her death, we rejoice in the assurance of knowing that she has obtained eternal rest with her Savior.
Visitation will be held from 4:00 – 7:00 p.m. on Thursday, January 27, 2022 at Redpath-Fruth Funeral Home, 225 Argonne Road, Warsaw, Indiana.   Linda's life will be celebrated at 10:00 a.m. on Friday, January 28, 2022 at First Baptist Church, 2819 Patterson Road, Warsaw, Indiana and officiated by Pastor Stephen Hargrave.  A graveside service will follow at Oakwood Cemetery of Warsaw, Indiana.
Online condolences may be sent through the funeral home's website at www.redpathfruthfuneralhome.com.