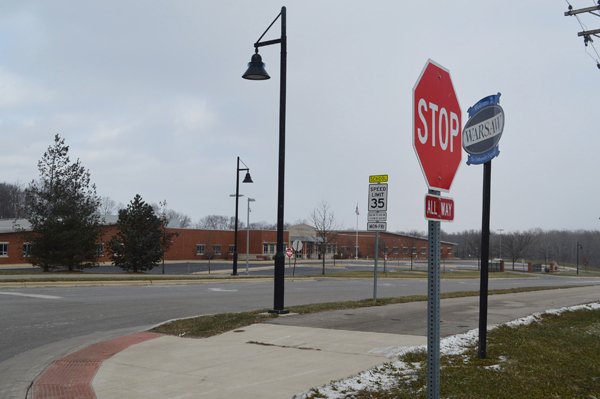 The expansion of the school zone around Madison Elementary and a traffic sign on the south side of Eisenhower Elementary were discussed by the Warsaw Traffic Safety Commission on Wednesday.
While Dr. David Robertson, Warsaw Community Schools assistant superintendent for elementary education, could not attend Wednesday's meeting as the WCS representative to the Traffic Commission, Warsaw Police Department Capt. Joel Beam said WCS is looking at making Madison a walking zone, possibly beginning in the spring. Currently, for most of WCS's schools, if a student lives within a 1-mile radius, they must walk to school or have someone drop them off to school. Over a mile, a student can be picked up by bus.
"Right now, Madison is not a walking school," Beam said. "The city just built this beautiful new sidewalk going along (CR) 300(N) with a roundabout, and they're looking at making that a walking zone."
He said the school zone should be increased if there are going to be kids walking along that road.
Madison Elementary School is at the intersection of CRs 150W and 300N. Currently, the school zone is just the width of the school property, Beam said. With kids walking to school, that's not very safe.
"We'd just like to increase it," he said, saying the Traffic Commission could just increase the school zone, similar to what it did with Harrison Elementary on Husky Trail. Beam suggested Heron Preserve and Tippe Downs could be included in the walking zone.
"The school is looking at doing a walking school bus, so they'll send school employees to the residences to pick up the kids and they'll all walk together, so when they cross the street at the roundabout, they will all be together. It will be important to have that roundabout in the school zone to slow that speed down, which is also another option that we need to look at," Beam explained.
He said he and WCS were just asking for the Traffic Commission to increase the school zone, from the roundabout to just west of CR 150W, only on CR 300N, which is about a mile. The intersection of 150 and 300 is already in the school zone.
Mayor Joe Thallemer asked, "So, by creating a school zone, you say that gives you authority to reduce the speed limit at certain times?"
"Yes," Beam said. "Right now, the speed limit is 45 (mph) I believe. In my opinion, 45 is too fast for kids walking to school, so right now we would lower it to 35, which is better, but it's still high."
Thallemer said it made sense.
"I know up at Harrison, the maintenance of the sidewalks became an issue in the winter time. We had some sidewalk in the city that went to the county a few homes and then back to the city. At the end of the day, I think the school corporation decided they could do the plowing now to the apartment unit," Thallemer said. "My discussions have been that, I assume that this will happen on 300N at some point, and the city needs to be involved in the maintenance of 300N."
He said that specific discussion hasn't been had yet, but it needs to be a part of the whole plan. "That we are able to provide cleaning of those sidewalks if we're going to make that happen." When sidewalks don't cleared, kids walk on the street and he hoped they wouldn't. "It's important we do our part as well."
Thallemer said the other issue they dealt with on Husky Trail was the signage and lights.
"I know we've had discussions, and we work well with the school, I don't anticipate there's any problem, we just need to address those things to make this part of the whole plan. Then if we roll it out, we've got maintenance covered, we've got signage taken care of. This body just making it a school zone does nothing. Motorists have to be aware of it, and I think we have a responsibility to provide a clear walk for those kids when the weather gets bad," Thallemer stated.
Warsaw Street Superintendent Dustin Dillon said there were some concerns with taking over the maintenance of the trail along 300N as it's wide and not a typical sidewalk.
He asked Beam if the school zone was limited to 1 mile. Beam said he heard that Wednesday, but didn't know for certain. Dillon couldn't remember if it was a half mile or a mile, and whether or not a roundabout could be included in a school zone. Beam said he and Roger Sarber, Warsaw Street Department, were talking with the Indiana Department of Transportation on their opinion of roundabouts in school zones.
"This gives us our marching orders to be able to bring something to this body that is sustainable," Thallemer said. He asked Dillon to look into it and if they need more resources, "we'll figure that out. I think it's all doable. We just need to make sure there's a process in order."
He said they probably need to sit down with WCS and discuss the signage.
Warsaw Community Economic and Development Director Jeremy Skinner said, "We did meet with them (WCS) before the holidays and discussed this. This is why it's coming before you."
He said they talked about maintenance, plowing during the winter, who was responsible, equipment, etc., but nothing was set in stone. Thallemer said the details need to be ironed out with WCS, worked through and then brought back to the Traffic Commission. Skinner said they need to have another meeting with WCS to hash out the details.
WPD Sgt. Lewis Fuller, a school resource officer, said he hasn't heard of a lot of issues out there, but "if they're going to increase walking traffic like that, we're going to take some measures to make sure something doesn't happen because that is a long stretch of road."
Moving on to Eisenhower Elementary, Beam reminded the Commission that in the past they talked about the school's issues with parent drop-off and pick-up creating bottlenecks on CR 200S because of traffic turning into and leaving Dwight Drive.
The school, in cooperation with the city, placed signs at Dwight Drive and 200S, essentially eliminating left turns into and out of Dwight Drive at certain times. Drivers have to turn right into and out of Dwight Drive, which is a city street.
"The school says the signage is working, so what the school is requesting is we put this into ordinance so we can enforce it," he said, noting he does see violations there. He also said this is a quick solution for now.
Beam said the school corporation and school principal support it.
The Traffic Commission approved for an ordinance to be written by city attorney Scott Reust and forwarded to the Common Council for the Council's approval making Dwight Drive a right-turn in and right-turn out only.
The next Traffic Commission meeting is scheduled for 1 p.m. Feb. 2.