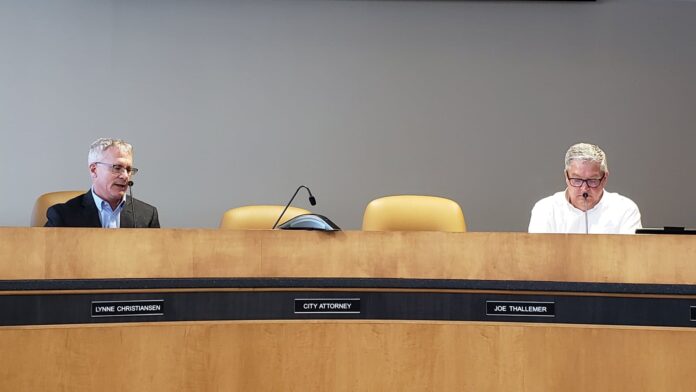 A special meeting held at Warsaw City Hall Friday morning helped shine some light on what is going on locally with the COVID-19 pandemic.
In attendance included Warsaw Mayor Joe Thallemer, Kosciusko County Health Officer Dr. Bill Remington, Warsaw Police Chief Scott Whitaker and Warsaw-Wayne Fire Territory Chief Michael Wilson.
Thallemer opened the meeting by extending the current local executive order on the closure of city buildings and departments by another two weeks. This means that all non-essential city employees will be directed to stay home and placed on "on-call status" through Saturday, April 18th at 11:59 PM. That time could be changed or extended based on decisions made at a state and federal level.
Any rentals or events through the Parks department has been canceled and refunds will be given out to those who reserved space.
Chief Scott Whitaker talked about what steps and precautions that the police department has been going through since the pandemic started. He and other police chiefs, Kosciusko County Sheriff Kyle Dukes and the county prosecutor speak on a daily basis about what has been going on throughout the county. Whitaker says they are taking advantage of everything available to them to protect his officers and staff, along with protecting citizens within the city, including maintaining social distancing while dealing with issues or even at traffic stops.
WWFT Chief Michael Wilson says a daily conference is held between all the fire departments and volunteer departments to pool together all the different activity that has happened throughout the county, so that everyone is up to date.
Mayor Thallemer says garbage pickup will continue, including large items. Road work will continue, pothole filling, etc. Airport must remain open by FAA regulations, but staffing is pretty bare and more or less shut down as far as inbound and outbound flights go.
City department staff will continue to be reduced, but Thallemer credits the Parks department for doing online interactions through their Facebook page.
Thallemer also reiterated the state executive orders regarding essential businesses and travel. Suggests businesses that are not on the essential list should consider closing. Parks will remain open at this time and asks for respect on social distancing measures. He says if there is noticeable congregating at parks, they will close. He encourages people to be outside to get out and enjoy the nice weather, as long as those guidelines are followed.
He mentioned parks and trails in Winona Lake now have temporary signs erected to tell those utilizing the outdoors of what not to do and will direct similar signs to be posted along the area trails. He said signs are posted by playgrounds, directing parents and kids not to use the equipment.
Dr. Bill Remington spoke saying that the county is going through a tough time, but gives a lot of credit to healthcare workers, first responders and others who have been working hard on the front lines. When asked about where we are along a time line, Remington used a baseball analogy of where we are in a nine-inning game. "I'd say at this point in time, we are in the second inning and already thinking about the extra innings too."
"April will be a heavy month, May will be a heavy month, but by late June, early July, things should start to get lighter."
Thallemer said meeting like the one on Friday will happen on a weekly basis at Warsaw City Hall at 10:30 AM, giving weekly updates about where the pandemic is along city and county lines. He said County Commissioner Brad Jackson is expected to be in attendance at next Wednesday's meeting.
The meetings will also be available via live stream on the City of Warsaw website, City of Warsaw Facebook page and City of Warsaw YouTube channel.
News Now Warsaw will also broadcast the audio live on 1480 AM and 99.7 FM.