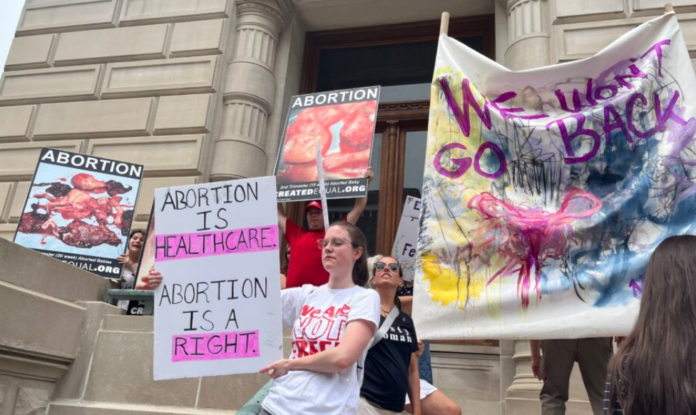 By Whitney Downard
Indiana Capital Chronicle
INDIANAPOLIS — Friday's release of the Indiana Supreme Court's abortion decision triggered a flurry of reactions from each side of the debate.
Justices ruled, in an unusual split decision, that the Indiana Constitution doesn't protect a woman's right to an abortion except in cases involving the life or health of the mother. The decision vacates a statewide injunction that blocked the near-total abortion ban. An injunction in a separately moving case doesn't apply universally, meaning that Hoosiers seeking the reproductive health care procedure will need to travel elsewhere.
Below are the reactions from various entities on the court's abortion decision.
Ban's proponents celebrate victory
Senate Republican caucus leader Rodric Bray, of Martinsville, said the ruling fulfilled the goals of the General Assembly, which passed the near-total ban in a two-week special session last summer.
"We set out to pass a bill in the special session that would protect life and support mothers and babies, and that's what we did. It was always our intent to draft a bill that could withstand a constitutional challenge, and I am grateful to see Indiana's Supreme Court recognize that the General Assembly has the constitutional authority to protect unborn life in the womb," Bray said in a statement.
Indiana's state legislature was the first to pass a new law banning the procedure following the U.S. Supreme Court's decision to overturn Roe v. Wade and strike down federal protections for abortions.
Sen. Liz Brown, R-Fort Wayne, tweeted "As a mother of 7, I will always advocate for policies that provide all people, beginning with babies in the womb, the opportunity to live a full life. I'm pleased that the Indiana Supreme Court recognized the constitutionality of the law we passed last summer. Our protection of the most vulnerable defines who we are as a society."
GOP U.S. Sen. Mike Braun, who is running for governor in 2024, simply tweeted "Life wins in Indiana."
Indiana Right to Life President and CEO Mike Fichter said "Indiana's unborn babies are the victors in today's ruling. SEA 1 was the realization of the people's will — millions of compassionate and loving Hoosiers who believe unborn babies must be protected from abortion. And Indiana is a light among states now, as we were the first state post Roe v. Wade to come together immediately and pass legislation to significantly restrict abortion.
"Today's ruling sends a message to the rest of the nation that when we stand together with love and compassion in protecting unborn babies and supporting pregnant mothers, we save lives, improve lives and support a national culture that values life."
Ban's opponents mourn loss
But others painted the abortion decision as a "sad day" for Hoosiers, vowing to pursue other legal options. The American Civil Liberties Union (ACLU) of Indiana said it would seek a rehearing for the plaintiffs — as allowed by law but rarely granted — and that the ban wouldn't take effect until Aug. 1 at the earliest.
Hoosier Women Forward Chair Elise Shrock said the ruling puts "the health and safety of Hoosiers at risk … With every ruling that strikes at the rights of Hoosiers, Hoosier Women Forward recommits to our mission to put more Democratic women in seats of power and create a state where Hoosiers have the liberty to thrive."
The group is a political and civic leadership training program designed to empower Democratic women to become more active participants in politics and leaders in their communities.
Good Trouble Indiana, a coalition of Hoosier healthcare and public health stakeholders, said "Today the Indiana State Supreme Court ruled that there is no state privacy right to abortion access for the people of Indiana. This ruling is disappointing and takes medical decisions away from patients and puts them in the hands of the legislature and the courts."
House Minority Leader Phil GiaQuinta, D-Fort Wayne, vowed that his caucus would "continue to fight for the fundamental right of women and girls to control their own destinies," adding that the decision should be left to women and their doctors, not politicians.
"The Indiana Republican abortion ban won't stop abortions, it will simply ban access to safe abortions. Hoosiers don't want this future for Hoosier women and girls," GiaQuinta said.
Party Democrats pointed to polling indicating that a majority of Hoosiers support exceptions for an abortion ban.
"…Democratic legislators will continue proposals to reverse this ban, work to expand access to contraceptives, and fight against Republican attempts to criminalize doctors and women. We stand united with the majority of Hoosiers who want all women in our state to have equal rights — and the right to choose," said Mike Schmuhl, the Indiana Democratic Party Chair, in a statement.