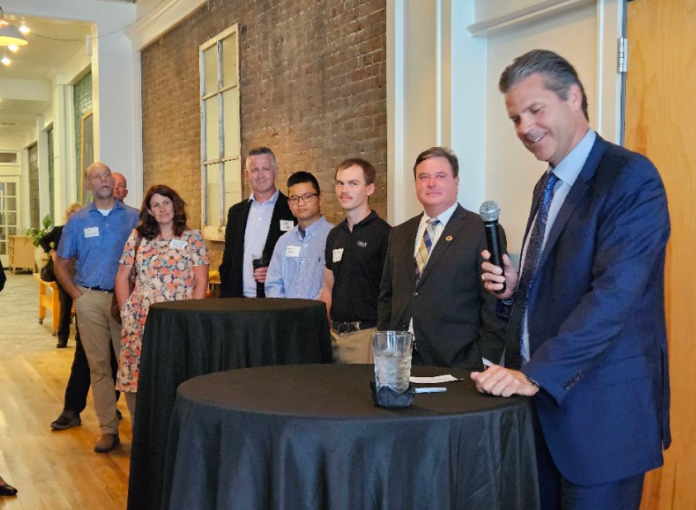 By Dan Spalding

News Now Warsaw
WARSAW — Republican State Sen. Ryan Mishler of Bremen put aside speculation of retirement and announced re-election plans at a reception held at the Vic at the One Ten in Wasaw in front of nearly 90 people on Tuesday.
The gathering was a who's-who of local Republicans that included a former, current and future mayor of Warsaw, (Ernie Wiggins, Joe Thallemer and Jeff Grose) Indiana Attorney General Todd Rokita and gubernatorial candidate Brad Chambers.
The District 9 state lawmaker was first elected 19 years ago and serves as the chair of the Senate appropriations committee. Most notably, he helped deliver large chunks of state money to Warsaw for the municipal airport and the orthopedic industry in the past year.
On Tuesday Mishler recalled when former Kosciusko County Republican chair Jean Northernor and State Sen. V. Richard Miller first approached him about running for office.
Mishler sounded eager to end speculation that he might retire.
He said he heard rumors of him supposedly deciding to retire during much of the General Assembly session.
"I had two people call me and ask me, 'Hey if you're not running I wanna run for your seat," Mishler said. "So I'm going to tell you tonight in the city where this all started in, that I am running in 2024."
Mishler pledged to keep working to reduce the state's pension liability Fund, said he'd like to see a 100 percent homestead deduction established, and would work to direct education funding go to students rather than schools.
"All I hear from families is, 'fund my child, not a school," Mishler said. "Obviously, children have to go to school and get an education, but parents  can design their education."
Rokita said Mishler has been a longtime confidant in state government.
Earlier this week, The Indiana Supreme Court Disciplinary Commission filed three charges against Rokita — all related to breaches of confidentiality.
One of the allegations outlined in the disciplinary complaint states that Rokita improperly disclosed on national television last summer that his office was investigating Indianapolis OB-GYN Dr. Caitlin Bernard. Doing so could be deemed a violation of Indiana's Rules of Professional Conduct, which prohibits such a disclosure if the investigation is still pending.
It's up to high court justices to determine whether any misconduct occurred and what, if any, sanction is warranted.
Rokita seemed to reference the controversy in his opening comments before endorsing Mishler.
"This event gave me an excuse to leave the state house and the Indianapolis press corps, which I'm always grateful to do," Rokita said.