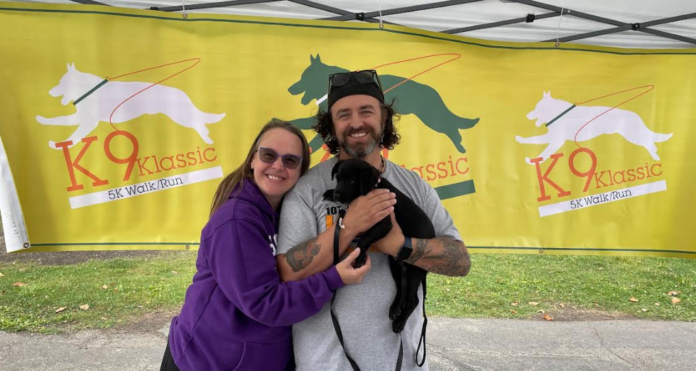 News Release
WARSAW — Willie 103.5 and WRSW 107.3 hosted their 5K Klassic Dog Walk on Saturday at the Winona Park Trails. This annual event is held to benefit the Animal Welfare League of Kosciusko County.
"It is such a great event!  Every year, the K9 Klassic continues to grow" said Chris Cage from Willie 103.5 "It's so much fun seeing all of the dogs, some of which are even dressed up in costumes."
The weather was perfect for the 46 registered dog participants and their human sidekicks.
AWL also had adoptable dogs that also participated in the 5k with their human volunteers.
Shelter dogs were there as part of the September Adoptions program. For the last 12 weeks the shelter has had over 400 pets in their care including those in foster homes. "We have been overwhelmed," said Executive Director Tonya Blanchard "Most pets come in broken, confused and neglected. They are welcomed by a team that brings unconditional love and consistency."
Kensington sponsored the great ladies from WhimsyChicksLLC.com photo booth and every dog and their humans received a free photo booth picture taken. The Kensington and AWL team pictures were also taken by the Whimsy Chicks.