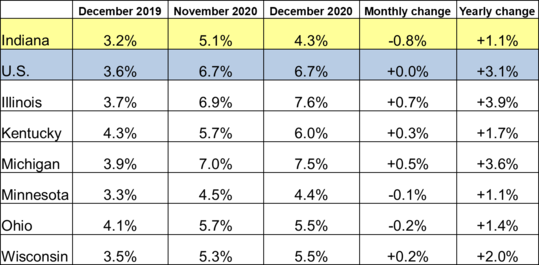 Finishing out 2020, Indiana's unemployment rate continued on an improving trend after the big spike in March due to the coronavirus pandemic.
The latest from the Indiana Department of Workforce Development showed the state's unemployment rate in December was at 4.3 percent. That's down 0.8 percentage points from November's 5.1 percent and remains below the national rate of 6.7 percent. It was also noted that Indiana's unemployment rate was the lowest among other Midwestern states.
Indiana's labor force had a net increase of 83,609 over the previous month. Indiana's total labor force, which includes both Hoosiers employed and those seeking employment, stands at 3.39 million, and the state's 64.0 percent labor force participation rate remains above the national rate of 61.5 percent.
Local unemployment numbers from the DWD are expected to be released on Wednesday.