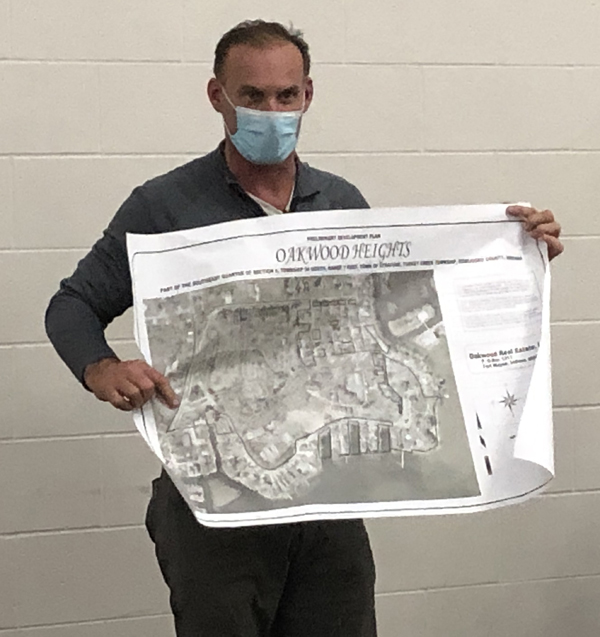 The following is from Denise Fedorow, Times-Union Correspondent
JR Parent went before the Syracuse Council Tuesday to introduce his plans for a housing development – Oakwood Heights.
Parent's family purchased the Oakwood Resort several years ago and Parent said his primary business is developing retirement communities, however, his plans for Oakwood Heights is for it to have a variety of housing to meet the community's needs.
He said they'd use the same entrance off Harkless Drive and to the left where it is closed off to the public now and only has walking paths he'd like to turn into some lots. He'd also like to create lots along Palm Drive, possibly some duplexes. Up by the event center, one of the highest points in Kosciusko County, some higher-priced homes may be built in the $200,000-$250,000 range with overlooks to the lake.
In a circular area, he'd like to put in a park with lots surrounding it and possibly some retirement homes in the larger lot areas along Harkless. Parent also envisions some narrower lots along Palm Drive could be built with garage/storage on the bottom and apartments above. He suggested some lake property owners might want to purchase one of those for storage purposes and rent out the apartments to families. He said he'd also like to extend some lots to Lakeview Road. Parent said he knows that area is heavily used, but there is no sidewalk so he'd like to work with the town on a dedicated right of way and put in a walking path.
The preliminary plan calls for 57 lots, some will be affordable workforce housing in the $120,000 to $150,000 range. He said part of the proposal calls for eliminating the walking path where the road is closed and allowing access through there and straightening access to the hilltop area.
Parent said he was open to suggestions. "I don't want to commit to this being the greatest housing development in town," he said. "We're not interested in making a significant amount of money – we want to be reasonable and competitive. The goal is to get more people in here so I want it to be successful."
He said like the presenter before him – Dr. Tom Edington, Wawasee School superintendent – he believes they need young people in town and housing for them.
Councilman Larry Siegel said some might be concerned about keeping the integrity and beauty of Oakwood.
"Yes, we have a significant investment in Oakwood. Any houses we own we've had to use for employee housing because of the housing shortage. One of the main reasons why we've been able to get employees is because we provide housing. It's in our best interest to have high-quality places," Parent said.
A resident asked if lake access will be relevant in this development as that was an issue when it came up before. Parent said at this point in time, there's no intention for people to have rights to the lake. "Do we want them to come down Oakwood and enjoy the beach? Sure!"
Parent said he knows he needs to go back to the county for some approval and said he just wants to get things moving. Council Member Bill Musser asked for a timeline and Parent said if he gets plans approved, it may be it'll be this time next year when they're ready to get started. Otherwise, he said it would likely be spring 2023.
He assured the council he would take a conservative approach and said he wanted to make it formal.
"Originally, Oakwood was a charitable organization and didn't pay taxes. Once we purchased it, it became part of a TIF (Tax Increment Financing) District and we'll use the tax money to create the infrastructure – roads and utilities – in order to put housing in," he said.
The council also held a public hearing on the 2021 budget and no one spoke for or against the budget. The council went on to pass the $4.6 million budget, a decrease from this year's $4.95 million. The adopted tax rate is $0.9814 per $100 assessed value.
Decreases in the budget include a decrease of $14,100 in police, $15,400 in streets and in cumulative storm, a decrease of $250,000.
The entire budget is a decrease of $389,782 from this year's budget.
Town Manager Mike Noe told the council he'd be sending in the Community Crossing Grant application the next day and was asking for a letter of support from the council. They're asking for $458,500 and the town's match would be $114,625 and will help with the BANs and Bonds for Brooklyn Street. Council Member Larry Siegel said State Rep. Curt Nisly and State Sen. Blake Doriot wrote letters of support.
He told the council the flood control structure is completed. The cost to the town is $209,443.83 and the county's cost is $70,519.75 for a total of $279,704.50, which is $1,740.92 less than the original quote.
In other business:
• Edington gave his presentation on the referendum that will be on the ballot.
• The Council passed an amendment to the ordinance regarding the Metropolitan Police Board removing Mike Noe from the three-person board and adding Bill Musser instead.
• The Council approved a task order for the Tech Park for $38,900 for engineering and $170,000 for the road and water main for a total estimated cost of $208,900, which will be taken from the Benton TIF district. The task order was previously approved by the redevelopment commission.
• The Council heard they want to get fiber optics and connect all the town departments on one system. The town manager and town marshal will be attending a meeting to get more information about costs.
• The town's tree lighting ceremony will be at Oakwood this year in partnership with Chautauqua Wawasee on Nov. 28
• The Council heard plans for Breakfast with Santa are being discussed to determine how they can go ahead with the event, scheduled for Dec. 5.
• The Council heard there is an Adopt a Bench program through the Parks Department. Benches are donated by Polywood.
• Siegel thanked town attorney Vern Landis for all his additional work on projects.
• A drive-thru trick-or-treat at the Community Center will be Saturday from 3 to 5 p.m. Kids can be in costume and several groups of volunteers from various civic organizations, churches and businesses will be handing out treats to the kids in vehicles. This is in lieu of the usual Halloween events.
Regular trick or treating is Oct. 31 from 6 to 8 p.m.
• Syracuse Police Chief Jim Layne warned residents to keep their vehicles and outbuildings locked as there has been a rash of car thefts, thefts from cars and outbuildings in Syracuse and the surrounding areas.