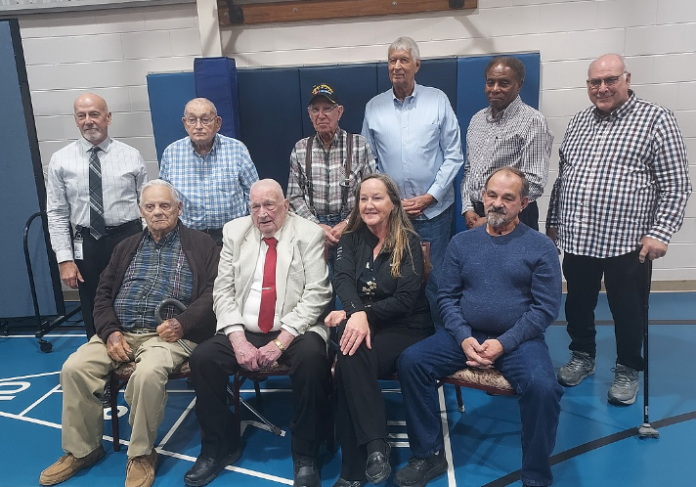 Jackie Gorski
Times-Union
WARSAW — Ten veterans were honored Tuesday with quilts during Threads of Valor.
The veterans honored were Harley Carney, William Cook, Larry Essig, John E. Hurd, Alisa Leek, Terry Leek, Donald Ridenour, Eldon Sauer, Richard A. Wells and Rex Wert Sr.
Liberty Sewing Circle member Marsha Huffman said this was the 16th time for the event.
In fall 2015, two local ladies started meeting at Warsaw's VFW to make quilts for veterans in Kosciusko County in nursing homes and homeless shelters in Warsaw, Huffman said. A special request was made to the Liberty Sewing Circle to make a large quilt for a veteran in a nursing home to celebrate his 90th birthday. The Circle's vision grew with that by making standard-sized quilts for nominated veterans in Kosciusko County.
She said the group needed a time and place to meet. It was worked out the Circle could meet on Saturdays at the Senior Center.
The quilts are given as a token gift of appreciation to local veterans and to thank them for their service and sacrifices.
Huffman said there have been some nominated veterans "decline for various reasons."
Darryl McDowell, Kosciusko County veteran service officer, said as Veterans Day passed, "we continue to be reminded of the remarkable resilience that defines our Kosciusko County veterans. Last weekend, we were called to express our gratitude to those brave men and women who have served and continue to serve our country with unwavering determination."
He also let everyone know of the nationwide Veterans Crisis Line that transitioned to a new number, 988, and then press 1. The crisis line offers easier access to immediate support "and can get a veteran connected with long-term resources," he said, as service can come with battle scars, both inside and out.
Mayor Joe Thallemer recognized the Liberty Sewing Circle and McDowell, as well as thanking Kosciusko County Senior Services Executive Director David Neff for his inspiration, vision and leadership at KCSS.
"I'll bet everyone in this room has their own thoughts on how these beautiful handmade quilts relate to the courage and sacrifice of our service men and women. While certainly not profound, I would like to humbly share my impression of this beautiful ceremony," Thallemer said.
"As our veterans went off to unknown corners of the world to defend our freedoms, many endured the unspeakable conditions of war and conflict. Halfway around the world, they were away from their families, their community and their homes.
"Quite simply, the patriotic comfort and warmth the quilts provide represents a thank-you and a welcome back to the warmth and friendliness of your home community that you fought so bravely for! We must never stop honoring our veterans. It is their courage and sacrifice that not only ensures our rights and liberties remain intact, but defines who we are as a nation.
"By bestowing these quilts on you today, fashioned by the loving hands of the Liberty Sewing Circle as a community, we honor and thank you for your service to our country, but also your lifelong service to our community!"
Carney served in the Navy during Vietnam. He was in combat serval times. He was a radio man and lead petty officer. He was on several different ships assisting radio receiver sites.
Cook was drafted in the Army from 1965-67, serving in Vietnam. He served as an infantry rifleman and radio man.
Essig served in the Air Force.
Hurd served in the Army from 1954-57 in Korea, not in a combat zone. He intercepted military and diplomatic radio traffic. His unit was the Army security unity. He had a top security clearance and was not allowed in combat areas.
Alisa Leek served in the Marines from 1982-86. She was not in combat and stationed in Japan.
Terry Leek served in the Marines, receiving the rank of a staff sergeant. He served as a drill instructor.
Ridenour served in the Navy from 1954-1958 during the Korean War.
Sauer served in the Army, earning the rank of corporal, from 1951-53. He served in Korea and was stationed in Seoul.
Wells served in the Army, an E-4, from 1967-1969 in the Vietnam War.
Wert served in the Army, an E-4, from 1972-75.
In addition to the 10 veterans being honored, Leesburg Elementary students wrote thank-you cards to veterans and all veterans in attendance at Tuesday's event received one.