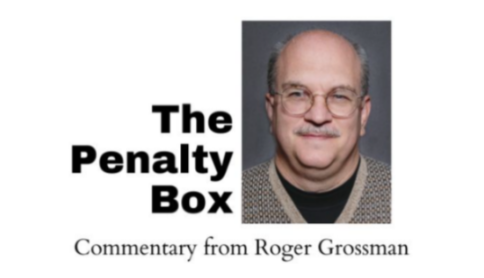 By Roger Grossman
News Now Warsaw
The Chicago White Sox are starting over again.
Sox fans have heard that before, but this time will be very different than the last few times.
This time, the guys calling the shots won't be Kenny Williams and Rick Hahn.
Williams and Hahn have been the leaders of the baseball operations side of the White Sox front office for a long time. Williams has been on the South Side since 2000 — first as a GM and then as president. Hahn came to the Sox when Williams was promoted. These two made the trades, drafted the players and managed those players' minor-league trajectories.
But it's over.
Williams and Hahn were told last week that their services were no longer needed because the organization is going to go in a new direction … and they won't be steering the ship anymore.
During their time at the helm, the Sox had limited success.
They won the 2005 World Series by sweeping the then-National League champion Houston Astros (before the Astros figured out what those trash cans in the corners of the dugout were really for). It was a historic achievement that ended 88 years of frustration for their followers, and Chicago baseball as a whole.
Including the title 18 autumns ago, the White Sox made the postseason only five times under Williams and Hahn. And in what were thought to be prime seasons in 2020 and 2021, the Sox lost in the 1st round to Oakland 2-1 in 2020 and were knocked out in the first round by Houston in 2021 3-games-to-1.
They made the playoffs those years, but no one ever really thought they had a chance to win a series let-alone the whole shebang.
We have talked many times about leadership's prime directive is putting the right people in the right places to succeed as individuals and for the collective organization.
The problem is that the White Sox have rarely ever achieved that mission, and there are a myriad of reasons why.
It starts at the top.
Jerry Reinsdorf bought part of the White Sox in 1981 for $19 million. For perspective, 57 current MLB players will get paid at least $19 million for the 2023 season! The market value for the team is now a little over $2 billion.
That was a pretty good investment, right?
But Jerry has waffled back and forth between throwing his money around on players who were past their prime or didn't pan out and being a cheapskate.
His failure as an owner peaked 3 seasons ago when the Sox seemed to have a window of opportunity with quality pitching, a dangerous offense and a good mix of youth and experience. Add to that the fact they play in the worst division in baseball, and they were set up for a run of success.
They just needed a field manager to lead them — the right field manager.
Reinsdorf stepped in to "right" what he perceived to be a "wrong" from almost 40 years ago. Back then, GM Hawk Harrelson (yep, THAT, Hawk Harrelson) fired Tony LaRussa as manager of the Sox three years after he led them to the 1983 Western Division championship.
LaRussa kicked the dust off his sandals and went on to Oakland and St. Louis and put together a Hall of Fame resume.
The White Sox floundered like a dying perch near the shoreline of Lake Michigan.
So, Jerry decided to bring back his old friend and give him a shot at managing again — to make up for what happened four decades before.
It was a total disaster.
LaRussa had been out of the game too long. He fined a budding star because he didn't like his celebration after hitting a dramatic home run, and he made his dislike public. That player went downhill from there and vanished from the baseball landscape.
And there were most certainly "cognitive issues" at play. He clearly was struggling to make simple baseball decisions during games and wrestled even more trying to communicate with the players and media about them.
This year's edition featured accusations of players sleeping in the bullpen during the early innings of games, and one player admitted that he didn't know who the leaders of the team were.
Now Reinsdorf is talking about selling the team, and the speculation is building that a new owner might want to move his team to a city where it is beloved by all and not second to the Cubs. Charlotte and Nashville want baseball in their towns desperately.
Reinsdorf is still very much in charge, though. We know this because he fired his top two player personnel guys after the trade deadline. A new person should have made those decisions.
But it is the White Sox we are talking about.
I will say this, and I mean it with all my heart—the fans of the White Sox are a loyal lot, and they deserve better than what they have gotten. They are angry, and they should be.
They are hoping for a new owner, new president, new general manager and a new business model to lift the organization to new heights…without dropping it on its head … again.