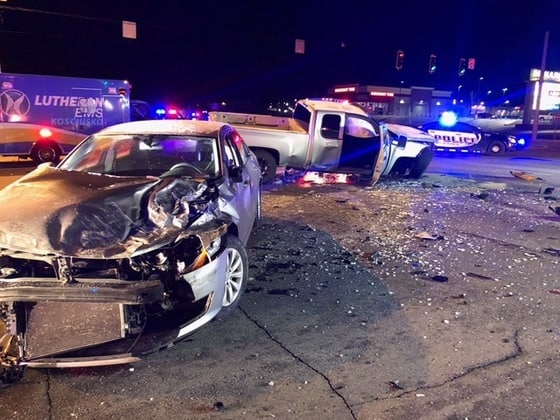 UPDATE 10:56 a.m.: Indiana State Police have released the names of the two people killed in a crash on U.S. 30 Saturday night as 19-year-old Jacob Slone of Warsaw and 16-year-old Paige Jefferson of Warsaw. Both were pronounced dead at the scene and their family has been notified.
ORIGINAL STORY 1:38 a.m.:
Two fleeing suspects died in a crash in Warsaw on Saturday night.
An Indiana State Trooper was responding to a theft that allegedly had occurred at the Meijer at 1200 Lake City Highway.
The trooper saw a vehicle that matched the description of the suspect vehicle and attempted to stop it. The suspect vehicle fled eastbound on US30 and drove through a red light at the intersection of US30 and Parker Street, crashing into three other vehicles. The two occupants of the suspect vehicle were pronounced deceased at the scene by the Kosciusko County Coroner. Two people in one of the vehicles struck by the fleeing vehicle were seriously injured and transported to Parkview Hospital in Ft. Wayne. No other serious injuries were reported.
US30 was shut down to eastbound traffic for crash reconstruction.
This is an ongoing investigation. Names of the deceased will be released pending family notification.
Anyone that may have witnessed this incident are asked to call First Sergeant Kevin Smith at the Indiana State Police Ft. Wayne Post at 260-432-8661.