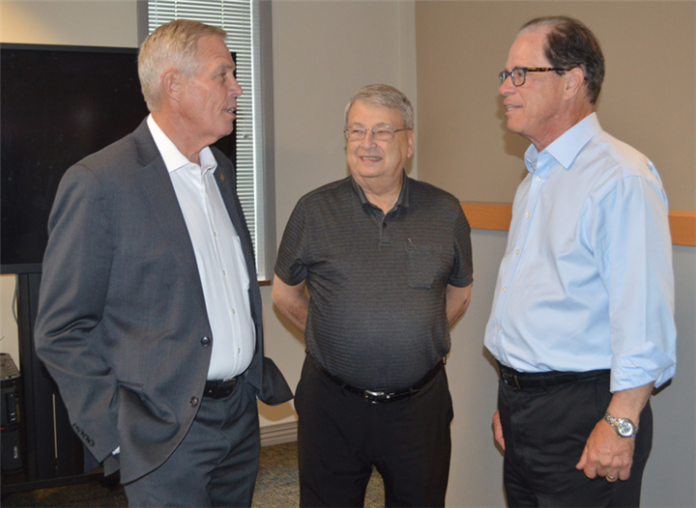 U.S. Sen. Mike Braun stopped in Warsaw on Wednesday as part of his 92-county tour.
"You'll always hear something when you do that. That's the beauty of it," he said about his Hoosier tour in a five-minute interview after meeting with local leaders at Warsaw City Hall. "Pretty common theme here in Indiana, since we do a lot of things well, we live within our means, I think, at the state and local level, do well. City, county governments work; are responsive to the people. But I hear workforce is the biggest issue pre-COVID and even worse now. So how do employers that want to invest here get the workforce to do it?"
He said he weighed in on that, having ran a company for 37 years prior to becoming a senator, so he knows what that is about.
The other two issues he hears often about are rural broadband and affordable housing, two issues that Kosciusko County has struggled with over a number of years.
"Rural broadband is actually starting to take hold in places that it definitely needs to because we've got a lot of good REMCs and telecom companies that are either working together or at least cooperating to get it done," Braun said.
Here in Kosciusko County, Kosciusko Connect, a subsidiary of Kosciusko Rural Electric Membership Cooperative (KREMC), was founded in 2021 to further KREMC's mission to provide essential services to underserved populations in rural areas. Kosciusko Connect is providing fiber internet to its customers all across the county.
On affordable housing, Braun said, "With building costs going up, it's going to be a while (until) we find that sweet spot, but everyone knows that's an issue, too."
In May, the U.S. inflation rate reached 8.6%, a 40-year high. Federal Reserve Chair Jerome Powell on Wednesday said there's "no guarantee" the central bank can tame runaway inflation without hurting the job market. There's also talk about a recession hitting the U.S. by 2023.
Braun said, "There's going to be some economic indigestion, whether it will get into a full-fledged recession, we're working through it now. The federal government created a sugar high of spending, created demand that threw markets into disarray, like housing, and then tried to shut down the productive side of the economy. That was a perfect formula in terms of what would create what we're wrestling with and we're working through it. So, hopefully, there's enough resilience and strength in the underlying economy pre-COVID we'll see that be the dominating feature other than some of the bad policies that have come from the federal government."
On Feb. 24, Russia invaded Ukraine and that war between the two countries continues on. Asked how much effect that war will continue to have on the economy and inflation, Braun said, "The biggest part that's impacted what we see every week or two when we fill up had nothing to (Russian President) Putin and the war. That had to do with one side saying we're going to shut the oil and gas industry down and we're paying for that. People quit looking aggressively to even increase our energy independence and started hunkering down. And that's going to be part of what I think takes us into a mild recession, reconcilation, whatever it ends up being."
He said with the war itself, Putin made a "classic" blunder.
"He barged into a country with ill-intentions and he is now a pariah throughout the rest of the world and I think he'll go down in history as one of the thugs, as well," Braun said. "How he's going to work himself out of that, that remains to be seen. I think the Ukrainian people have shown tenacity. I hope the EU, in their own background, help them more than they have, and I think Putin will have his own reconcilation, maybe from his own people someday."
Closer to home, on May 24, 18-year-old Salvador Ramos fatally shot 19 students and two teachers, along with wounding 17 others, at Robb Elementary School in Uvalde, Texas. The school shooting resulted in some calling for more gun control laws while others wanted to focus more on mental health initiatives.
In early June, Braun and other lawmakers introduced the new Safe Schools Act. The bill would allow COVID relief funds to be used by schools in order to improve their security. The Elementary and Secondary School Emergency Relief (ESSER) Fund would provide the money, according to a story from WIBC.com that Braun tweeted on June 10.
"We've got tons of money that is sitting unspent from all the big ideas of what we were going to use it on. We ought to just spend that money on maybe helping secure schools. It's there and I think that's getting a lot of attention," Braun said Wednesday.
He did vote against the Bipartisan Safer Communities Act. The bipartisan bill, which includes measures to limit access to guns among young adults, individuals who have committed acts of domestic violence and individuals who are considered a danger to themselves or society, was sent to President Joe Biden, who signed the measure into law.
"I did vote against it because, overwhelmingly, from the emails and phone calls I got into my office, and also because of my principles of being a Second Amendment defender, for some things it would keep guns out of the hands of criminals and the mentally ill. And we are ready, we're doing most of that in Indiana, and I didn't feel we needed the law, and I'd like states to craft – it's going to be getting hard to get many Hoosiers to agree with New Yorkers and I think, even on the gun stuff, as long as you don't restrict your Second Amendment rights, that that should be left up to the states, not the federal government," Braun said.
An issue that will be up to the individual states going forward is abortion. On June 24, the U.S. Supreme Court overturned Roe v. Wade and said the original decision in 1973 was wrongly decided and that there was no right in the U.S. Constitution to abortion.
Top Indiana lawmakers are delaying until late July the start of a special legislative session during which they are expected to consider tougher anti-abortion laws following the U.S. Supreme Court's decision, according to an Associated Press story Wednesday. Republican Gov. Eric Holcomb called last week for a special session beginning July 6 to take up a tax refund proposal. But when the Supreme Court issued its abortion ruling days later, Republican legislative leaders said lawmakers would also debate anti-abortion measures. Leaders of the Republican-dominated Legislature announced Wednesday that lawmakers would convene starting July 25 to allow sufficient preparation time.
Braun said, "I will be happy to see our legislature ponder that and see what citizens in Indiana are interested in and craft legislation accordingly. I'm just thankful that it came back to the states and that's where it should have been in the first place."