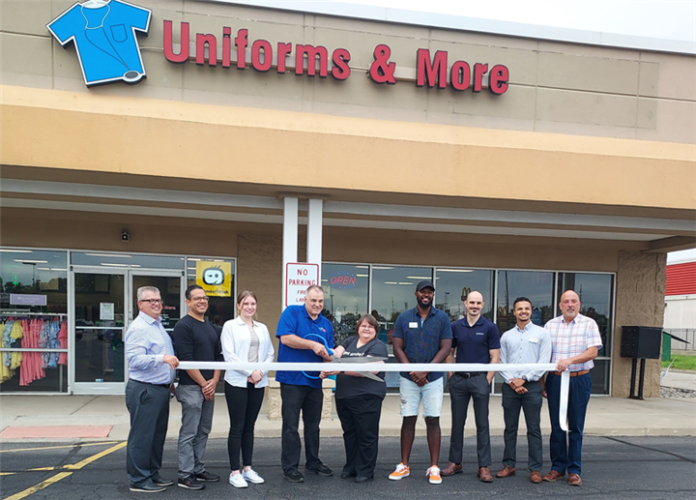 Kosciusko Chamber of Commerce held a ribbon-cutting ceremony Monday for Uniforms & More, 3620 Commerce Drive, Warsaw.
Uniforms & More opened its Warsaw location July 18. There are also two stores in Fort Wayne and one in Huntington.
Co-ower Amy Shriner said Uniforms & More started in Huntington in 2005 and opened its first store in Fort Wayne in 2007 and its second store in 2019.
It was decided to open a Warsaw store because they had a lot of customers from Warsaw at their Fort Wayne stores, Amy said.
Co-owner  David Shriner said so far the market in Warsaw has been pretty good. Amy said a lot of people are glad they have a store in Warsaw now so they don't have to drive as far for their products.
Uniforms & More sells medical and chef uniforms, as well as accessories and shoes, Amy said. The store also does embroidery in-house at their Huntington store. Sizes range from XXS petite to 5X "and we do very talls."
Amy said when she was nursing, there weren't a lot of stores for medical uniforms around and Amy told David she wanted to open a uniform store. It took 10 years to do that.
Amy said she hopes Uniforms & More can bring convenience to people. The store tries to have different colors and options for people.
David said if the Warsaw store doesn't have something in the size and color the customer wants, Uniforms & More can pull that from its other store and have it for the customer in a couple days.
Hours are Monday to Friday, 10 a.m. to 6 p.m.; and Saturday, 10 a.m. to 2 p.m.