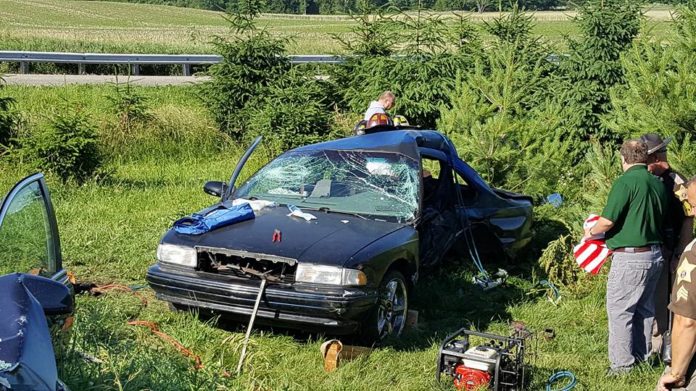 KCSD Press Release – Kosciusko County officials are currently investigating a two-vehicle crash that claimed the life of a Warsaw man this morning near Claypool.
Kosciusko County Sheriffs' Deputies and emergency personnel responded this morning at 8:52 a.m. to a report of a vehicular crash at the intersection of County Farm Road and County Road 600 south.  Arriving E.M.S. and fire personnel immediately began to extricate passengers from within a 1995 Chevy Caprice that had received extensive driver's side damage.  Passengers from the Caprice included Brady L. Shepherd, 25, Claypool, Latasha Sue Ibarra, 23, Warsaw, and Madison C. May, 18, Warsaw.  The driver, identified as Reuben Jesse Delion, 22, Warsaw, was pronounced dead at the scene from blunt force trauma by the Kosciusko County Coroner's Office.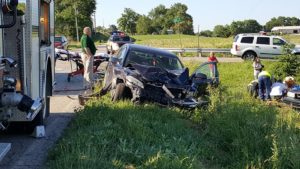 Kosciusko County F.A.C.T. reconstruction team members stated that a preliminary investigation into the crash has determined that Delion had been westbound on County Road 600 South, according to witness accounts .  Delion had approached and stopped at the intersection, but suddenly proceeded into the path of a northbound 2010 Chevy Malibu driven by Nathan Jay Denna, 18, Claypool.  Denna was taken to Kosciusko Community Hospital in fair condition with chest pain.
Passengers Shepherd, Ibarra, and May were all transported to Lutheran Hospital of Indiana, Fort Wayne, in serious condition.
The Kosciusko County F.A.C.T. Team was assisted at the scene by members of the Claypool Fire Department, Warsaw Wayne Township Fire Territory, Lutheran Kosciusko E.M.S., Parkview Samaritan, Lutheran Air, Kosciusko County Coroner's Office, Indiana State Police, and the Kosciusko County Sheriff's Department.