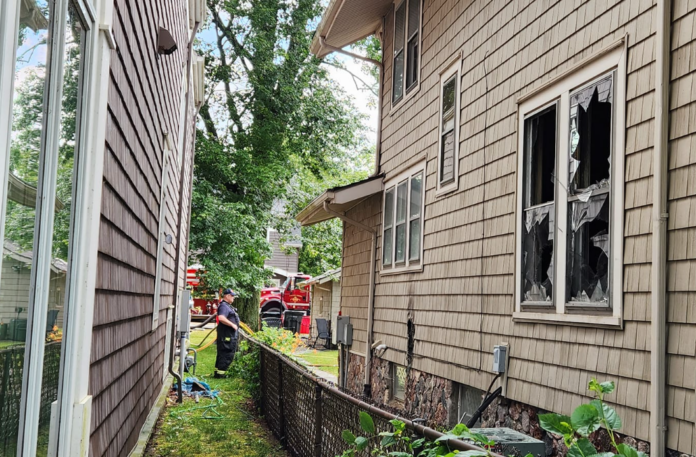 By Dan Spalding
News Now Warsaw
SYRACUSE — A lightning strike damaged a home along the south side of Lake Wawsee Sunday afternoon when a strong storm swept through the area.
The lightning bolt traveled down the narrow space between two homes and struck a utility box a few feet off the ground at 1126 Ideal Beach Drive.
Neighbors heard what sounded like an explosion across parts of the lake.
Neighbors Jim and Tonya Thieman were home at the time.
"It was loud and then there was a big explosion. It was red and then there was just a lot of smoke," said Tonya Thieman.
Turkey Creek Township Fire Territory Fire Cheif Mickey Scott said it was rare that a bolt would travel between two homes rather than striking a roof.
"I'm still trying to figure out how it got between the two houses like that. I don't know because there's not much room. As they say, 'lightning can do strange things ,' so I'm not going to try to guess," Scott said.
The house, believed to be more than 100 years old, was empty at the time.
The home is owned by Brian and Tracey Heald.
No injuries were reported.
Fire damage was limited to the lower area and the back side of the home, Scott said.
He declined to offer a damage estimate.
The fire was reported shortly before 4 p.m.
Other fire crews responded from Tippecanoe Township and Milord.
The storm knocked down trees and limbs and utility lines in parts of the Syracuse area.