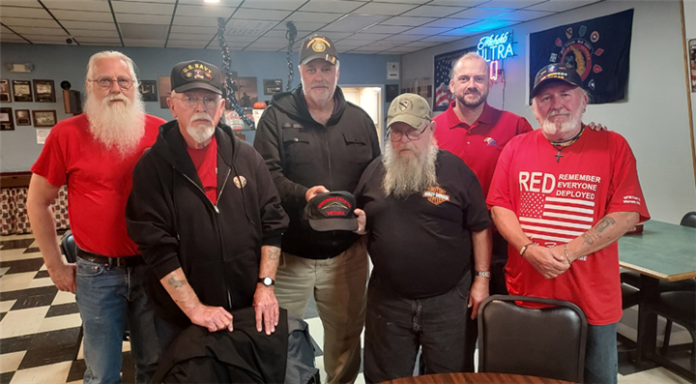 Local Vietnam veterans Stan Leedy and Rex Rife will be among a group of local residents that will leave Warsaw Tuesday to visit the Vietnam Wall in Washington, D.C., this week during the 40th anniversary of the dedication of the wall.
The Vietnam War ended in 1975. The Vietnam Memorial Wall was dedicated in 1982. There are 58,318 names on the wall of those who lost their lives during the war on the two 200-feet-long walls at last count.
Leedy has been to the wall seven or eight times, while this week's visit will be Rife's first. Leedy said every time he goes to visit the Vietnam Wall, he gets the same feeling as if he's seeing it for the first time.
Both men served in the Army with Leedy serving from 1967 to 1970, being stationed in Vietnam in 1968 and 1969, and Rife went into the Army in 1969 and was stationed in Vietnam from 1970 to 1972. Leedy was a paratrooper in the 173rd Airborne Brigade. Rife was a helicopter crew chief.
Joining Leedy and Rife to Washington, D.C., is Commander of Sons of the American Legion Squadron 49 and Chaplain of VFW Auxiliary Post 1126 Johnny Butler, Rife's son Seth and friend Kirby.
Leedy said every five years, every name on the wall is called. Butler said there will be an opening ceremony Monday and he believes names will be read from 4:30 p.m. until midnight. On Tuesday, Wednesday and Thursday, names will be called out from 5 a.m. to midnight. It is to give recognition of those who died while serving their country and remember and their sacrifice.
"Those who were killed in action, they'll die twice if  we don't remember them," Butler said. "So we continue to read their names off so there's always a memory of them."
Leedy said each unit will lay a wreath by the wall.
Flowers and other items are left all yearlong. Salvation Army Envoy Ken Locke said some of the things that are left are really moving.
"It's almost as touching as the wall," Locke said.
The items are collected and put in a museum.
Leedy said he wanted to go to see the Vietnam Wall this year to remember the friends he lost during the war. He has five good friends  whose names are on the wall. He also wants to pay respect to the rest of the people listed on the Vietnam Wall.
Rex said between high school friends, people he served with and other people he knew, he has 13 friends on the wall.
It is more than reading off names.
"It's very emotional experience," Leedy said. Each person on the wall has a story.
Leedy said people should go out to the Vietnam Wall any time they can as it's very moving. A lot of Vietnam veterans say they won't go out there because it's too emotional, he said, but it's kind of respecting your fellow soliders when visiting the wall.
"And just like Johnny said, 'When you name, when you say each guy's name, he's still alive,'" Leedy said.
For those who haven't served, Leedy said people will be in awe of how many people's names are listed. "You can't explain it until you see it," he said.
"You'll see the emotion on other people's faces, their body language, those who are standing there for a loved up, doing an etching of a name," Butler said.
Rife said it's almost a therapy-type thing visiting the wall.
After visiting the wall, Leedy said he anticipates feeling better by having closure. When actually visiting the wall, it's a different feeling, but when you're leaving, it's almost bittersweet. Rife when you're there and the same people there are going through the same thing, you don't feel as though you're alone.
Leedy said he plans on going to back to visit the wall in the future and Rife is signed up to go on an Honor Flight but isn't sure when he'll go. His grandson was born on the 25th anniversary of the last day of fighting, so Rife plans to take him with.
People need to see the wall whether they're a veteran or not, Leedy said. Children old enough to understand what went on should especially go.
Butler said as he's been  out to see the wall on Memorial Day. Visiting the wall helps people understand veterans' feelings of not being sure of how they were given the opportunity of coming home when someone else didn't.
"I think we not only see it with our Vietnam vets, we also see it with our Iraq and Afghanistan vets today," Butler said.
When asked what they think about the fact the dedication was 40 years ago, Rife said he couldn't answer that because to him, it sometimes feels like Vietnam is still going on.