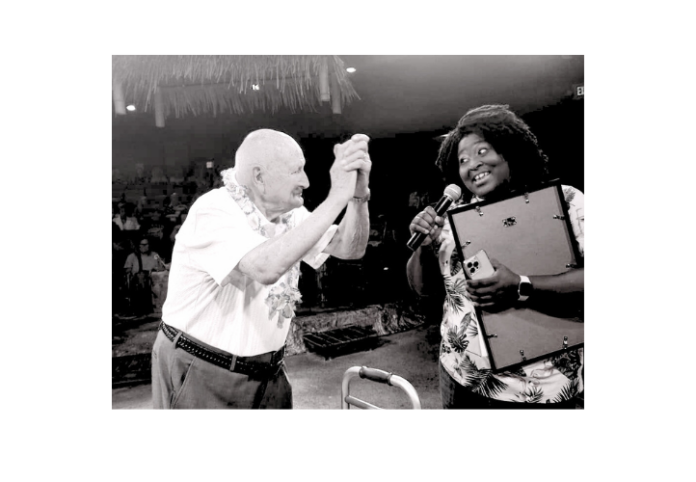 By David Slone
Times-Union
WARSAW — Having seen more than 420 performances at the Wagon Wheel Center for the Arts since 1956, Max Poorman can't tell you what the very first show he saw was, but he will tell you how wonderful the theater is.
"No, I don't (remember the first show). I wish I did!" he said in an interview Thursday. His favorite show? "All of them!"
He added, "My gosh. I've been coming here since they first started. There weren't many people. It was pretty small and we sat outside. We didn't have anything like this. It was different, because I was there. I remember that so well. There was just a few of us."
Poorman will celebrate his 100th birthday on July 12, and he hasn't missed a summer season at the Wagon Wheel in the last 67 years. Thursday, before he and his daughter, Arlene Emrick, took in the matinee showing of Jimmy Buffett's "Escape to Margaritaville," Wagon Wheel Executive Director Lakesha Green and her staff celebrated Poorman.
Poorman was interviewed by three area newspapers, a radio station and a television station. Warsaw Mayor Joe Thallemer proclaimed July 12 as Max Poorman day, and Poorman was presented with a "Cheeseburger in Paradise" birthday cake. He also was given an autographed poster of the show. The audience sang "Happy Birthday" to him and received popcorn and drinks in honor of him.
Green said, "We're celebrating today to go with the show, because, originally, it was supposed to be in 'Kiss Me, Kate,' which is a show he saw with his wife (Mabel)."
Due to illness in the cast, "Escape to Margaritaville" was delayed and replaced "Kiss Me, Kate" in its timeframe.
"He turns 100 on July 12, so we wanted to take this time to just really love on him and celebrate him. And we wanted to have it kind of before because there are other plans in other cities – everybody is celebrating Max! But what makes him special to the Wagon Wheel is because he was the first patron of the Wagon Wheel and he's been coming since 1956 and has NEVER, NEVER missed a summer season ever," Green stated.
"So, to have this gem amongst us, we have to celebrate and honor that because that not only shows the strength of the Wagon Wheel, but the tradition that goes along with the Wagon Wheel. So, we're so excited to celebrate him today and just have some fun. We're going to 'Escape to Margaritaville' with him," she said.
Poorman said when he started coming to the Wagon Wheel, he didn't imagine he'd still be going decades later.
"We thought maybe 10 years and that would be it. And they kept going and going and going and still going," he said.
What keeps bringing him back, he said, were the things that the Wagon Wheel does and the good shows.
"They're good. They're really good! If you don't believe me, you can go someplace else that's got these and they're not like this. This is good. It's perfect and I love it," Poorman stated.
He used to attend the shows with his wife. After she died in 2012, his daughter began going with him and she's never missed a show since. They always sit in the front row of Section 4.
"It's been phenomenal because he has so many wonderful stories," Emrick said. "And he remembers it all, so vividly."
Poorman said they discovered the Wagon Wheel by accident.
"We went, didn't know what we were doing. But it's been pretty nice. Beautiful. Enjoy ever bit of it. Really do!" he said. "I came one night, one day I left in New York and I drove all the way to here."
Bruce Shaffner, a former owner of the Wagon Wheel, said he's known Poorman for thirtysome years.
"Just a great guy. He and his wife Mabel were very devoted theatergoers and they also participated in different events that we would have going on here at the theater, including our theater trips that we used to take to Canada, as well as New York, and he and Mabel both went on those with us," Shaffner said.
He said Max and Mabel were really good friends with Wagon Wheel founders Major Herbert Petrie, his wife Mildred, and John and Kitty Butterfield.
Green said, "We want to be able to spread this tradition to let young people see the longevity of the theater, the longevity of what tradition looks like, when you talk about family. This is what the Wagon Wheel is. We talk about it, but to actually see it is a whole other thing."
She said the Wagon Wheel is going to keep celebrating Poorman's birthday every year.
Poorman was raised in Illinois, then moved to near Berne. He lived in New Haven, and then in the last couple years moved to Fort Wayne to live with Emrick and her family. He served in the Army Air Force during the 1940s but did not travel overseas. He started his own heating and air conditioning company in Fort Wayne, Poorman's Heating & Air Conditioning, which is still in business.
Asked what his secret was to a long and happy life, he simply said, "Keep coming. Keep coming (to the Wagon Wheel). We come to a lot of things here. It rained in here! We saw that."
For the musical "Singin' in the Rain," the theater has it rain on stage.
"They do everything!" he said.