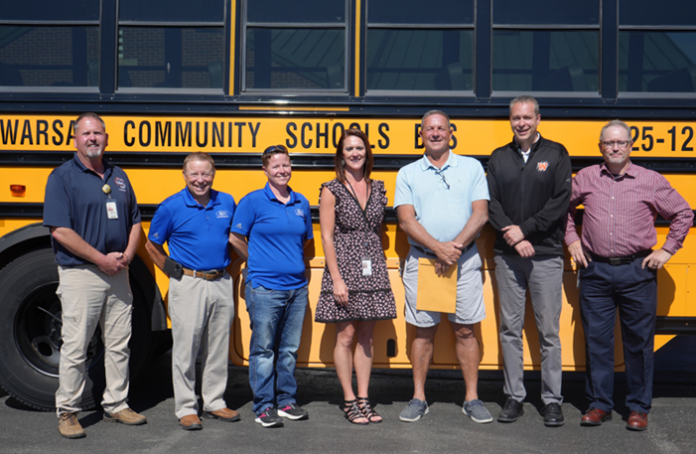 Staff Report
WARSAW — Warsaw Community Schools and Kerlin Bus Sales & Leasing Inc. announced their collaboration in donating a bus to the Baker Youth Club.
This partnership signifies a shared commitment to supporting the local community and enhancing transportation services for WCS students, according to a news release from WCS.
As part of WCS' bus replacement plan, several buses are traded in each year.  Recognizing the value of these buses, WCS worked with Kerlin to provide BYC with a much-needed transportation solution because of the increased number of students attending BYC before and after school. Instead of the typical trade-in process, WCS and Kerlin Bus Sales & Leasing Inc. worked together to offer the bus to BYC at a significantly reduced rate.  This new mode of transportation will ensure that WCS students have convenient access to the valuable programs and resources offered by BYC.
"We are thrilled to collaborate with Kerlin Bus Sales & Leasing Inc. to support the Baker Youth Club," Transportation Director Mark Fick said. "By donating this bus, we are supporting the education and development of our students beyond the classroom. We believe in the importance of fostering strong partnerships within our community, and this collaboration is a testament to that commitment."
"BYC is very thankful and excited about the new bus. The collaboration between Kerlin Bus and WCS in supporting us with student transportation is of utmost importance!" said Tracy Furnivall, executive director at Baker Youth Club.  "Transportation has always been the biggest issue with why kids don't come and with the partnership with WCS (and our BYC buses) we have eliminated that obstacle. The second bus will give us some options as we navigate the growth at a couple schools. BYC is very thankful for this partnership."
Superintendent Dr. David Hoffert said, "WCS is so thankful for the long-standing partnership with BYC. The before and after-school programming provides a safe and engaging environment for students outside of the school day. Our ability to provide small ways to support through a bus has a direct positive impact for our students, parents and community."