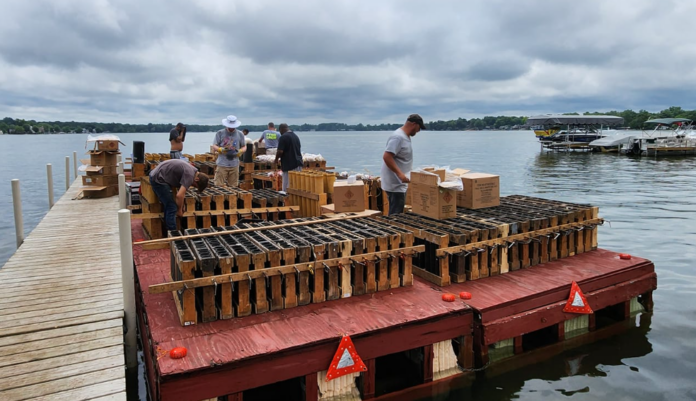 By Dan Spalding
News Now Warsaw
WINONA LAKE — A spokesman for the town of Winona Lake reiterated Saturday afternoon that there is no backup date for tonight's fireworks in the event it is canceled by weather.
A crew with Mad Bomber Fireworks Productions, a pyrotechnics company specializing in fireworks displays from LaPorte, was loading several barges with fireworks materials Saturday afternoon at a closed off boat ramp at the Kosciusko County Fairgrounds.
Ken Nisly, who helps oversee the fireworks, confirmed there are no backup dates despite a brochure circulating that claimed Sunday was an official backup.
News Now Warsaw reported in a Friday broadcast and in a story Saturday morning that there was no backup date.
Nisly said he's unsure who is responsible for the mistake and said that it led to about 50 calls Saturday morning.
Gardner said he believes the chance of thunderstorms, which would represent more of a problem that rain, is only about 10 percent.
The chance of rain is much higher.
The fireworks will continue for 21 minutes and involves 2,000 pounds of fireworks set up on two barges, according to Mike Gardner, who was overseeing the crew Saturday.
The number of aerial explosions are in the thousands, he said.
The fireworks are fired off remotely by a crew in a boat nearby.
The use of off-location remotes remotes began about four years ago, Nisly said.
Gardner said his crew will be in Wonder Lake, Ill., for a show Sunday and then Kenosha, Wis., on Tuesday.