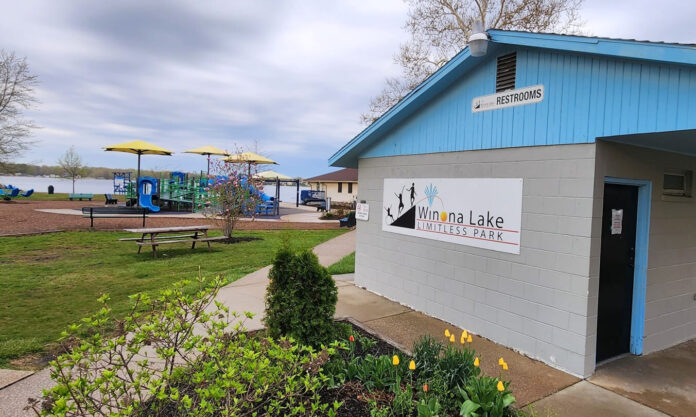 By Dan Spalding
News Now Warsaw
WINONA LAKE — Representatives of the Winona Lake Parks Department still hope to complete a $1.2 million improvement project this year despite delays caused by a paperwork flow problem with the clerk-treasurer's office.
The town is now preparing to seek bids on the Limitless Park improvements in May and work could begin in August.
Improvements include new playground equipment and benches, replacement of old restrooms and expansion of the parking lot that will add 48 spaces.
Kristie Maiers, park board president said funding sources include a $500,000 grant from the Land Water Conservation fund through the DNR and the National Parks Service and a  $300,000 grant from the K21 Health Foundation.
Holly Hummitch, director of the Winona Lake Parks and Recreation department noted earlier this week that delays in processing paperwork by the clerk-treasurer's office have slowed the project by a few months.
The town council addressed some of those issues Tuesday.
Clerk-Treasurer Laurie Renier, who began a year ago last January, told the council that the office has faced a large learning curve as they transitioned to the new year but said they're getting on track.
Council plans to meet again Friday for an update on some accounting practices.
Maiers sounded optimistic about getting the work done "before the snow flies."
In a related note, the parks office will host a seasonal kick-off party at the town's Splash Pad from 5 to 7 p.m. on Friday, May 26. The event will include music and giveaways.