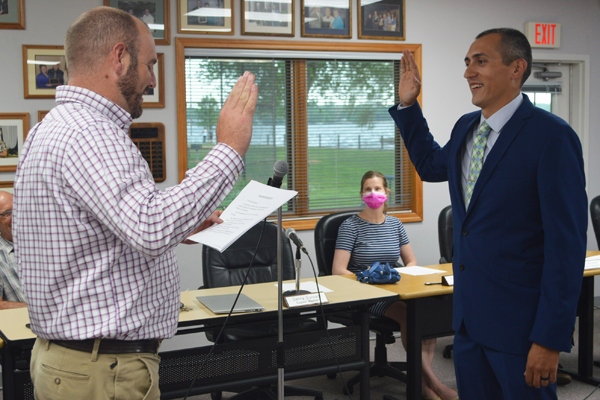 Winona Lake's newest patrol officer was once a DARE student of Town Marshal Joe Hawn.
Winona Lake Town Council approved a resolution at a special meeting Tuesday appointing Phillip Hawks, 33, as a deputy marshal. He replaces Shawn Kantenwein. Town attorney Adam Turner then gave Hawks the oath of office, and Hawks' duties begin at 6 a.m. Wednesday.
Before the appointment was made, Council President Rick Swaim read a letter from Hawn that said Hawks recently was interviewed for the position of patrol officer. The interviewing committee included Mike Foster, officer Joe Bumbaugh, Councilwoman Heather James and Hawn. They all agreed "that Phillip Hawks would be an excellent addition to the Winona Lake Police Department and will serve the community professionally."
Hawks comes to WLPD with eight years of law enforcement experience and numerous training certifications. Being Indiana Law Enforcement Academy certified, Hawn requested Hawks' probationary period be waived and he would begin his duties with WLPD at full compensation.
Councilman Dennis Duncan made the motion to approve the resolution, Councilman Jim Zachary provided the second and it was unanimously approved.
After the oath of office was given, Hawn said, "We are extremely excited to be able to have Phil here with us on the Winona Lake Police Department." He reiterated Hawks' eight years of experience in law enforcement. "Just a wonderful man, obviously, as you guys see right here. Has great family support and we're really, really excited to be able to have Phil here with the Winona Lake Police Department."
Hawks then introduced his family, including his wife, Rebekah; his five children: Olivia, Abby, Gabriel, Owen and Wyatt; his parents; his siblings and their families.
"So that kind of tells you the support Phil brings with him. We're just overjoyed. Actually, we kind of shut down the process after Phil had applied. If we have a candidate like that, we just need to jump on it," Hawn said.
Before Winona Lake, Hawks served with the Warsaw Police Department, having been sworn in there Dec. 20, 2014, during a Board of Public Works and Safety meeting. Asked why the change, he said, "Just a better fit for me, for my lifestyle and for my family."
He said he graduated from the Indiana Law Enforcement Academy in 2014. A Warsaw Community High School graduate, he is an Army veteran, having served for six years.
Hawks said he worked with Hawn when Hawn was at Warsaw Police Department, too. "He was actually my DARE officer way back in the day," he said.
"Those were my first years," Hawn stated.
Some of Hawks' certifications and training include SWAT, criminal interdiction and drug trafficking.