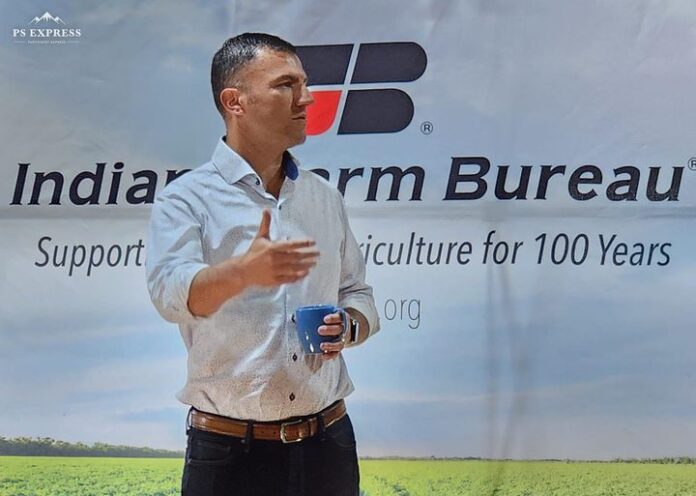 By David Slone
Times-Union
WARSAW — Local farmers met with 2nd District U.S. Rep. Rudy Yakym III Thursday at the Boggs Farm in Warsaw to discuss this year's farm bill, but they also covered agricultural issues ranging from eggs to fertilizer to the supply chain.
The farm bill is legislation passed about every five years that affects everything from farming livelihoods to what crops are grown and how they're grown, as well as crop insurance programs and health food access for low-income families and more. The current farm bill, the Agriculture Improvement Act of 2018, expires in September.
Yakym's participation Thursday in the Farm Bureau farm bill listening session and farm visit was part of his "Riding with Rudy" 10-stop tour throughout Indiana's 2nd Congressional District.
In an interview after the listening session, Yakym said what he's hearing from farmers is, "We've got our farm package coming up later on this year, the farm bill, and they want to make sure that we have not only support for crop insurance, support to export the products that we grow, the things that we grow here in the 2nd Congressional District. Those are two big things that we talked about."
He said they also spent a lot of time talking about regulation.
"We've got just a whole series of regulatory overreach that's been coming out of this administration. We want to make sure  that we get that under control so our farmers can grow their crops here, raise their cattle and do the exports that they need to," Yakym stated.
One specific policy of President Biden's administration that Yakym said is hurting farmers is the Waters of the United States (WOTUS) rule that redefines waters of the United States under the Clean Water Act.
"What ultimately happens is, you could have some rain on a property, get a little puddle or small pond that accumulates because of rain. The Biden administration declares it a navigable water and they, therefore, believe they have full regulatory authority and power over that little puddle as though it was a navigable water that you could drive a ship through," Yakym explained. "That is completely inconsistent with, I believe, Congressional intent and the way that we intend the law to be enforced."
A few months ago, he said the House passed a bill – which also cleared the Senate on a bipartisan basis – that went to the president to sign. Biden vetoed the bill.
On Wednesday, a federal judge in North Dakota temporarily blocked the federal rule in 24 states. U.S. District Judge Daniel L. Hovland halted the regulations from the U.S. Environmental Protection Agency and U.S. Army Corps of Engineers pending the outcome of a lawsuit filed by the states, according to the Des Moines Register's website.
"That's obviously going to work its way through the court system over the course of the coming months, but that's a good sign. It's a step in the right direction," Yakym said.
Regarding other Biden administration policies hurting farmers, Yakym said, "There's a number of EPA rules that they're driving on to farms, particularly as it relates to the whole climate agenda that they're trying to drive through the farmers. And our farmers need to be focused on growing crops, not focused on the administration's climate agenda."
Eighty-five percent of the farm bill deals with the Supplemental Nutrition Assistance Program (SNAP). Formerly known as the Food Stamp Program, it provides a sliding scale of income-designated for food to low-wage working families, low-income seniors, people with disabilities and other low-income individuals.
Asked if he foresaw any changes in SNAP going forward, Yakym responded, "You may see some work requirements coming into place as it relates to a whole number of our federal programs, particularly for able-bodied adults who are able to go to work, especially able-bodied adults of working age with no dependents. We really need to make sure we focus our federal resources on where they should be focused on, which is truly underprivileged people, children that are growing up in impoverished circumstances, pregnant women, things like that is where we need to make sure that our federal resources are focused as it relates to the federal entitlement programs."
With the goal to have the farm bill out by Sept. 30, Yakym said there's already been a lot of discussion on the farm bill.
"Not only have we received input from farmers, but we've also translated that input to the Agricultural Committee who's ultimately responsible for getting the farm bill through," he said.
With the five-year farm bill, Yakym said what they want to be able to do is give farmers predictability to operate for the next five years and not leave them in limbo from year to year.
During the Farm Bureau listening session, Warsaw Community High School FFA member Thomas Boggs asked Yakym, with China and Brazil moving away from the U.S. dollar, how will that affect farmers and what is the U.S. government doing to lessen that impact.
From a macro-perspective, Yakym responded, "The most powerful country in the world at any given time is the country who the world holds as their reserve currency. The United States dollar is the reserve currency globally, but we're starting to see a few chings in the armor as it relates to that."
He said the U.S. has to maintain the dollar as the world reserve currency.
"One of the single-biggest issues that I have as it relates to that is, look at our overall federal deficit," he said. Later this summer, the U.S. debt ceiling will hit $31.4 trillion "and the more debt we take on, the higher the level of fiscal irresponsibility we have in Washington, the more probable it is that people move away from the U.S. dollar as a reserve currency because they don't trust it. They start trading other currency outside of our dollar. So, that has a really negative impact on all of us, not only our farmers but it also has a negative impact on all Americans when that happens."
Yakym said what he wants to do to make sure the U.S. maintains the dollar as the international reserve currency is to "simply restore fiscal responsibility to Washington. We have to get a hold of our fiscal deficits."
He stated the Congressional Budget Office is projecting that in 2024, "if we do nothing next year, we have about a $1.5 trillion deficit, which is roughly 7% of GDP. That is wholly unacceptable in my book. We've got to rein that in. If we pass what President Biden has called for, we'd have a $1.8 trillion deficit next year, and that's on top of tax increases he wants to saddle us with. So that's wholly unacceptable in my book."