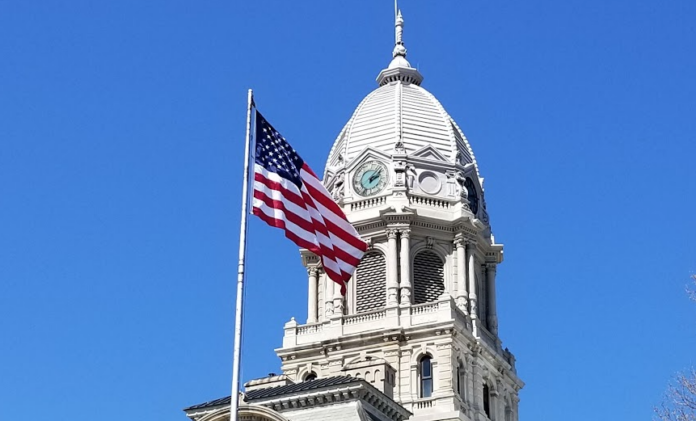 By David Slone
Times-Union
WARSAW — Two new alcohol license applications were unanimously approved by the Kosciusko County Alcohol Tobacco Commission, though the license for a Warsaw coffeehouse raised some concern about minors in the business.
Courthouse Coffee on the Square LLC, doing business as Courthouse Coffee, 108 N. Buffalo St., Warsaw, applied for a beer, wine and liquor riverfront and lakefront license.
Travis McConnell, owner of Courthouse Coffee on the Square, said the business is principally a coffee shop.
When excise officer April Tackett asked him to explain to the board about the new permit, he said, "We're looking to add into our menu for other guests that are looking to do what's called a coffee cocktail thing."
He said it was a similar model to what the Penny Drip in Fort Wayne is doing where a person can get an Irish coffee and a tequila coffee. "Basically, all your type of liquors you can get in a coffee. There would be table service, as opposed to being served over at the bar to make sure we comply with all regulations," McConnell said.
Being an attorney, he said he would be getting a manager with lots of experience once they decide to "take off and run" with the drinks.
Tackett asked if the whole coffee shop was new. McConnell said the coffee shop is up and running now, and it used to be Latte Lounge and Courthouse Coffee before that.
"It's been there for the last thirty-some years," he said.
Board President Elim Smith asked if there would be tables outside. McConnell said they have seating outside, but they don't have space for tables. Tackett said they couldn't serve the drinks outside.
"What are you thinking business plan-wise with it being a coffee shop … When I think of coffee shop, I think, yes, people come in and sit, but a lot of people come to the counter and then leave. With this being a riverfront permit, there is no eligibility for carryout. So how are you going to …?" Tackett asked.
McConnell said they would make sure to instruct people that they can't walk off the premises with the alcoholic drinks. He said they would have a plan in place and maybe signage. All alcoholic drinks will be table service only.
Board member Alan Alderfer asked if there would always be someone on the premises who is over 21. McConnell said there will always be someone who is able to serve alcohol during those hours that they serve alcohol.
Alderfer asked Tackett what the age was to be able to serve alcohol. Tackett said there is a restricted alcohol permit and with that a person can be 19 or 20 years old to bring it to a table in a family room, but there also has to be someone on the premise who is at least 21. McConnell said there will be someone over 21.
Alderfer said, "So at this point, you're not going to be able to just have high school students running the place."
McConnell said his current manager is 25 and she already has an alcohol license, but he is looking for someone else to manage the alcohol with more experience. The current manager doesn't have extensive experience with alcohol, she's just been a server.
Alderfer asked if they hire high school students there. McConnell said they do, they typically hire ages 16 and up, but they would not be serving alcohol.
Board member Dan Woods said that while he wasn't doubting McConnell's knowledge and everything, but what worries him is that the coffee shop is a hangout for high school kids and the alcohol would be there.
McConnell said he could see that being a concern, but they don't actually get many high school kids hanging out in the coffee shop. They've even tried to get kids to come hang out in the coffee shop but they would rather be on their phones. There are some who do come in, but McConnell said they will be checking IDs.
"Most of our patrons I would say are over 21, the vast majority. And several of them expressed excitement (for this)," he said.
Woods made a motion to approve the license, and the motion was approved 4-0.
The second new application was for a beer, wine and liquor riverfront district license for Blank Slate LLC, doing business as Blank Slate, 105 W. Main St., Syracuse. The alcohol license request had been tabled from the previous two commission meetings due to signage not being posted.
Tackett noted that there were no remonstrators against Blank Slate's petition for a new permit.
Jack Birch, an attorney representing Blank Slate, said the business is in the same location where Café Liefde had operated and it is in the riverfront district. The owner of the cafe decided to no longer operate that business "so these three gentlemen formed an LLC and bought the property, at that time not realizing that a riverfront district license will not transfer, so they've been remodeling and trying to get it ready, awaiting their license hopefully to be issued," Birch stated.
The plan is to operate the business as a restaurant. Birch said they will have a different menu than what the cafe had, but will not serve big meals because there's not a real kitchen.
Andrew Mock, a partner with the limited liability corporation, said the restaurant holds about 25 people and that they will have normal hours of operation. The restaurant will have some outdoor seating. Everyone will have to be at least 21.
The board approved a favorable recommendation for the new license 4-0. The state commission will have to make the final approval and they meet the first and third Tuesday of the month.
One alcohol license up for renewal before the board Thursday had a violation.
The beer, wine and liquor package store permit was for G & M Package Store Inc., doing business as Beef's Booze Barn, 100 N. Huntington St., Syracuse.
Margaret C. Camp, owner, explained that at the end of February an employee that worked for her, but doesn't now, served an underage person. Camp said she wasn't there at the time of the violation. An excise officer came in after the employee had served the minor and wrote the tickets then. Camp found out about the violation when she arrived to work the next day and the employee told her what happened and gave Camp the ticket. She paid the fine immediately.
Camp said her fine was $1,000, and the employee was fined, too, but Camp didn't know how much. Camp said it was her first violation.
Tackett asked what the house rules are supposed to be regarding carding customers. Camp said if a person doesn't look over 40, they're supposed to be carded.
Alderfer asked how many employees did she have. Camp said there's four of them, including herself, with another one starting today. When Alderfer asked her if  this was her only location, Camp said yes.
The board unanimously approved to recommend to the state commissioners that the license be renewed.