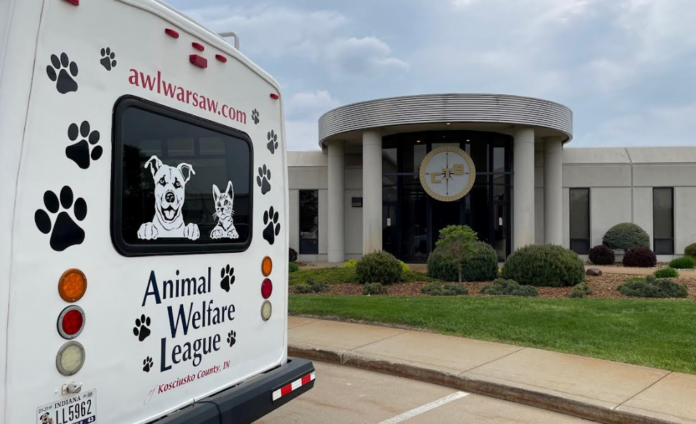 News Release
MILFORD — Chore-Time Brock & CTB Corporate held a two-day "Stuff the Bus" donation event for the nonprofit Animal Welfare League of Kosciusko County.
The event was organized by Michael Mettham and Maureen Kuhns from CTB. Almost $2,200 in donations of cat and dog food, laundry detergent, along with large variety of pet supplies were donated.
"April was a record-breaking month with 194 intakes of which 170 where cats and kittens. As you can imagine this takes a toll on our budget. AWL must fundraise to support our beautiful nonprofit shelter that many cats and dogs of Kosciusko County temporarily call home" said Executive Director Tonya Blanchard
"This time of year is when our passionate Team and Board of Directors rolls up their sleeves to get creative when have so many kittens come in the front door. Sadly, we see this on a weekly basis for what we call kitten season or 'Kitty Palooza' in AWL terms."
"The stuff the bus program is a wonderful way for a business to help us out with the supplies we need to keep going. Chore-Time Brock's "Stuff the Bus" 2-day event brought in an amazing amount of donations for our furry family. We can't begin to thank them enough!"
"We welcome everyone in Kosciusko County to stop in and take and tour or walk some dogs or snuggle some of our kittens. We currently have 324 pets in our care," said Blanchard.
"CTB was excited to have the opportunity to host this event and help the Animal Welfare
League!" said Michael Mettham Director of Benefits, Compensation. "Tonya, John and the whole AWL staff do amazing work for the county.  We're thrilled that CTB employees stepped up like they did and truly stuffed the bus!"
The Animal Welfare League provides services for all of Kosciusko County. For the second year in a row, AWL had a 97.7% save rate for pets in their care.
Last year they also experienced a 28.3% increase in pet intakes totaling 1664 pets. This increase added 367 additional pets over our 2021 intakes.
"What an amazing group at CTB to host this event for AWL" said John Lantz, AWL Board
President "We are very thankful for their partnership and support! Our special thanks to Mike Kissane."
AWL encourages you to come and spend time socializing the pets at the shelter. They are
located at 1048 S. 325 E., Pierceton. Call ahead for adoptions appointments at 574-267-3008.