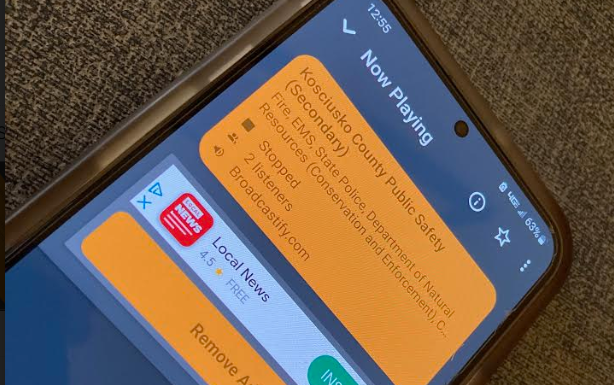 By Dan Spalding
News Now Warsaw
WARSAW — Kosciusko County Sheriff's Office and Warsaw Police Department have jointly decided to encrypt and remove much of the radio traffic available on police scanners.
The change means the public can no longer hear much of what is happening on scanners or popular scanner apps involving police in real time.
While scanner traffic still picks up EMS and Fire calls, the amount of traffic involving police have virtually been eliminated.

The move took effect about a month ago.
As a result, scanners no longer broadcast conversations involving traffic stops, domestic fights or a range of other activities like bar fights or even inmate escapes.
County Sheriff Jim Smith confirmed the change, saying it boiled down to a safety factor for officers.
"We were finding that with all these scanner apps that people were able to listen to our radio traffic. They were actually beating us to the punch on some of our calls for service and actually showing up on traffic stops, where officers were, which were creating an obvious officer safety issue." Smith said.
"I know a lot of people want to keep up with what's going on, but unfortunately … with the accessibility of the scanner apps, so many people were driving around listening to what was going on and they were showing up at the scenes. Law enforcement is hard enough, and that just made it extra tougher for our guys," Smith said.
The change was recommended by a committee that's been involved in the recent installation of several communications towers in the county that were added to improve coverage.
The use of encrypted scanners in Kosciusko County follows similar moves across the country, including much bigger jurisdictions as police have updated their communications systems to use modern technology.
Smith had little reaction about the lack of immediacy that reporters now face under the new policy.
"You're going to have to read about it when you get your paperwork from the jail the next day," Smith said.
Reporters have relied on radio police scanners for decades to learn about breaking news through police radio chatter and that type of real-time access allows newsrooms to quickly send reporters and photographers to the scene of public emergencies and crime scenes. 
Kensington Media Director of Programming Kris Lake noted that the policy was altered without any public input from elected officials and thinks there could have been another way to strike a balance to protect officer safety.
"I think the argument can be made that this really is hindering our ability to promptly report on incidents of personal (and) public safety and we kind of see that as a problem," Lake said.