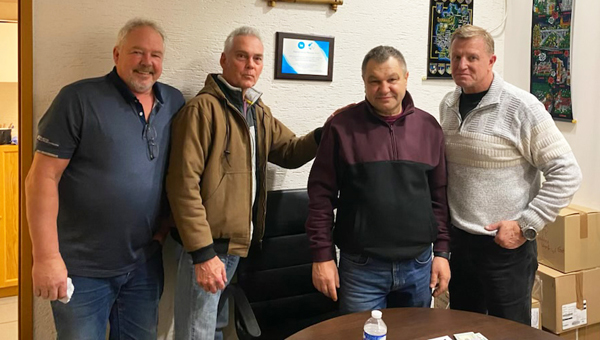 Mark Howe, Correspondent — Two Warsaw men went to Poland to help with the influx of Ukrainian refugees over the past week, and the stories of desperation and heroism left them with a veritable book of material from which inspiration can be drawn.
Pastor John B. Lowe, of New Life Christian Church and World Outreach, and Greg Rauen, executive director of World Compassion Network, left Indiana on Monday and arrived in Krakow, Poland, late Tuesday. They hit the ground running Wednesday morning.
Lowe, his wife Debra and other New Life members have traveled to Ukraine and Poland many times over the past couple of decades, helping to plant churches and speaking at pastors and marriage conferences and youth events. As a result, the Lowes are very close to those in the region.
"It's not been unusual, with the time difference (six hours) to be on the phone at 1 or 2 in the morning, getting first-hand reports of what was happening," Lowe said. "It's heartbreaking to hear of so many families, people that you know and love, being split up while some stay behind to fight."
"Americans have known tragedy from natural disasters, but nothing on this scale," Lowe said. "Combat from outside our borders is something we Americans have never seen.
"Hurricanes, tornadoes and even wildfires have a point where the threat is over. In this case, there is the knowledge that the war could follow them across Europe. With the relationships we've built over the years, we wanted to step up and help out."
Ukrainians have left their homeland, seeking refuge in other countries, taking only what they can carry and often traveling hundreds of miles in the late winter. It's common for people to wait all night at the border crossing to enter Poland legally.
Hundreds, if not thousands, have made it to New Hope Church in Krakow, which looks much more like a storefront than a traditional place of worship. Pastor Yvan "Ivan" Yurchishin has become the "go-to man" for refugees. Lowe has spoken at the church several times.
"The donated and acquired supplies are stacked nearly to the ceiling," Lowe said. "From here they are sorted, with some going to the refugees, some going to a warehouse to be distributed someplace else, and some being shipped to Kyiv. Obviously, the Russians aren't just going to let a truckload of relief supplies through, so it's quite an undertaking to get that truck where it's going."
Once at New Hope, the refugees are greeted by a bank of people who register them and help them begin to make a plan for the short-term and perhaps long-term future.
"They sit down with volunteers who have phones, to call friends or relatives, and try to figure out where exactly they want to go," Lowe explained. "This has been a possibility in the back of the Ukrainians' minds for a while, but when reality of evacuating and the stress that comes with it, many times the focus is to just get out of the country."
Lowe said New Hope has beds set up in every available nook and cranny of the building, and a nearby summer camp is being winterized and plumbed to handle still more people.
"The people keep coming," Lowe said. "Greeters at the door meet them, but whenever there's a lull, they fall asleep where they are froom sheer exhaustion. They really are going all out to help the refugees."
Whatever It Takes
To Survive
Lowe said he's heard, and seen photos, of people packed into whatever mode of transportation they can get, especially trains. People have been sleeping in the aisles when the club cars are full.
"It reminded me of when the Taliban was taking over Afghanistan," he said. "There was video of people clinging to a moving plane, and falling off. They knew if they don't get out of the country, they were done for.
"By the time people get here, they're just physically and emotionally spent. So one of the things we help them do is get some rest and a good meal so they can get their wits about them again."
A Chance Encounter
Lowe said while he was helping out, a lady from one of the churches in Ukraine recognized him from one of his trips there.
"I didn't recognize her, but she did me," said Lowe. "I barely understood what she was saying, but she told me of her evacuation from her country, and the ordeal she had endured.
"It was obvious she was glad to see a familiar face, and she thanked me for coming over to help. I think she just needed someone familiar to talk to, and in that moment, I was that person. It's humbling to think we can affect people that way when they need it most."
Germans Pitching In
Lowe said he met a pair of Germen men who drive a 15-passenger van filled with supplies to Krakow, minimally a six-hour drive one way, then fill the van with refugees to take them on in to Germany.
"They do this every chance they get," Lowe explained. "They said 'it's not much,' but to those refugees, it's everything."
Why Donate Money?
Bryan Lowe, associate pastor at New Life and John Lowe's son, said former Soviet block countries have been stockpiling supplies since at least 2014, when Russia first emerged as a threat to their countries.
Pastor Lowe took money with him, electronically, to purchase supplies from other places, as well as to meet other needs.
"This way, the money can turn into an apartment, or transportation, or blankets or whatever the immediate need is," Bryan Lowe said. "We could fill a shipping container with such supplies here, but it would take months for it to arrive. this way, they can meet some needs right now."
Supplies with military applications are also being sent to the area.
"Let's put it this way; everyone knows that if Ukraine falls, they're next. So these other countries are going to do everything they can to ensure the Russians don't take Ukraine."
Donations can be made at www.ihavenewlife.com, with a link about two-thirds down the home page. Lowe also sends out updates regularily on his Facebook page.
Lowe and Rauen will return to Indiana on March 23.