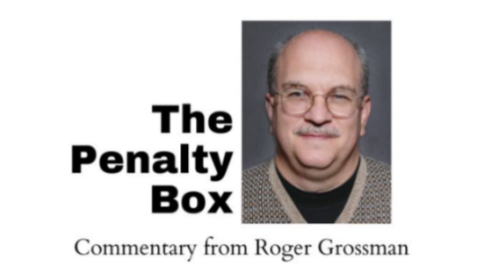 By Roger Grossman
News Now Warsaw
The US women's soccer program has, for the last two decades, led the movement to take the world's "beautiful game" to the other gender on the planet.
They have shown the women of the world with skill and athleticism what is possible on the pitch. The truth is, it is just as fun to watch a women's team navigate the ball from side to side and make runs and loft crosses to the far post that are headed into the back of the net as when the men do it.
And the Americans are the two-time defending champs at the FIFA Women's World Cup as the evidence that they have been the standard.
But our 2023 entry just never felt like it was going to raise the trophy.
The negative energy surrounding the team was so thick you could barely see through it.
The women on the national team have been very vocal in their displeasure that the players on the men's national team get paid more than they do. Their argument is that they play the same game with the same number of matches, and they have had more world-wide success than the men, so they should at least get paid the same as the guys do. They went so far as to take it to court.
The problem with doing that is that when you make big noise like that, you better be ready to back it up. When you don't, the noise doesn't mean much, it becomes a credibility issue and you actually lose ground in your overall argument.
I knew they were in trouble when their most outspoken veteran, Megan Rapinoe, complained after the 3-0 win over Vietnam that the new coach of their side didn't sub early enough.
That set the tone.
They squeaked through to the round of 16 but lost in a shootout to Sweeden when the aforementioned outspoken veteran missed her penalty kick.
When you open up your mouth to complain, make sure the flies don't come in (that's an original saying by me, so if you use it, please give me proper attribution).
The hazing scandal in the athletic department at Northwestern took a weird turn last week.
Coaches and players came to practice with shirts supporting Pat Fitzgerald.
A lot of people were surprised that there weren't more assistant coaches let go when their boss was sent packing, and this is why.
Getting shirts would be a great idea if the message they carried with them was something like "we're going to pull together" or "let's fight for each other"—something that promoted unity in a positive way.
What we got can be translated into "We were cool with the hazing and we're still here."
There were calls for the Wildcats football season to be canceled. That wouldn't really help anything, and it would most definitely punish players who didn't do anything wrong.
My problem is: how in the world had this been going on and no one knew? How did someone so squeaky clean as Fitzgerald—someone who was the picture of what it was like to be a great student and a great athlete at the same time and then coach his team to be the same—be so inviting of this kind of behavior in his locker room?
I am hoping we hear more, even though what we hear will likely be gross and appalling.
One of the worst-kept secrets in the sports world is that Phil Mickelson loved to bet on sporting events.
He bet on games — a lot of games — in a lot of different sports.
Mickelson has admitted that he has a gambling problem. He has sought treatment for what he described as his addiction to gambling and he claims he now has put his problems behind him.
Well, the gambling part may be behind him, but the fallout from his past is catching up with him.
His former bookmaker makes sure we all know how deeply he was into it.
In a book by professional gambler Billy Walters titled "Gambler: Secrets From a Life at Risk", Walters alleges that Mickelson has spent more than $1 billion betting on football, basketball, and baseball over the past 30 years.
According to Walters, Phil tried to place a $400,000 bet on Team USA during the 2012 Ryder Cup, and he was playing on the team that year.
Walters talked him out of it.
Let's be clear, Phil can do whatever he wants with his money. Heck, if he'd like to donate $1 million to the Grossman savings account, I'd gladly cash that check. And he's good for the money. On the course, he's earned $96 million and who knows how much more in endorsement deals. And don't forget, he just signed a $200 million contract with LIV Golf.
But it's a bad look for a guy who, for so long, was the good guy that we all loved so much. He was Tiger's rival, which endeared him to many. But he was so happy playing golf and it showed in his smile and his walk.
But I wonder if Phil will ever understand what exactly he's lost in the last year. Sure, he's richer, but he's lost the adoration of the fans. He's like Hulk Hogan when he joined New World Order–same guy, but not the same.
There is a common thread that runs through all three of these stories: they all are paying now for the sins of their past.
And many times, there is no way to stop it or fix it.
The message: make a good decision to start with.