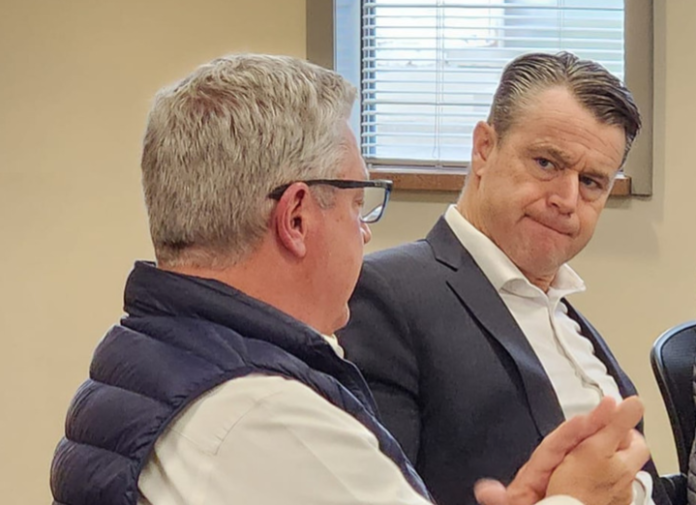 By Dan Spalding
News Now Warsaw
WARSAW — A state proposal to establish a driving card program that would allow driving privileges for undocumented residents appears to be dead in Indianapolis but still has support at the grassroots level.
The bill, authored by Republican State Sen. Blake Doriot, is apparently stalled in committee, but generated a lot of support in various cities, including Warsaw where more than 100 people attended a city council meeting to show support.
Council eventually passed a resolution supporting the state legislation.
Mayor Joe Thallemer, a strong advocate of the proposal, brought up the issue during a meeting last week with Sen. Todd Young.
Police contend that undocumented motorists who can't get a driver's license for lack of documentation worry about being pulled over and that such activities keep them busy.
Many contend that the lack of a license makes it difficult to run basic errands and get to work.
One Warsaw police officer offered his opinion during a law enforcement roundtable last week with Young.
"We can't deal with the immigration issue — that's not us," said Warsaw Police Officer Brad Kellar. "But we do have to deal with these people as part of our community — and if there is a way to bridge that gap, I think this is probably one of the best ways to do it."
Young replied, "Thank you … that makes great sense to me."
The driving card proposal initially gained bipartisan support. Warsaw City Council voted 6-0 and Kosciusko County Republican Chair Mike Ragan said he liked the idea.
"It's not like Blake's a liberal," Young said, drawing laughs.
Young added that he thinks it remains a state-level issue.
A state Senate committee had endorsed the bill in early February. But it failed to advance through another committee before a deadline this week for action.
The bill aimed to establish driver privilege cards that are already issued in several other states. The proposal would have had the Indiana Bureau of Motor Vehicles issue the cards to immigrants who pass the state's driving test, have paid Indiana taxes in the past year, submitted to a fingerprint background check and provide proof of auto insurance.
Immigrant advocates cheered the Homeland Security and Transportation Committee's support for the bill after similar proposals introduced over the past decade were never taken up in the Republican-dominated Legislature. The bill, however, didn't gain Senate Appropriations Committee approval, which was needed because of the Bureau of Motor Vehicles' estimated $1.4 million cost to develop the new license.
Editor's note: Associated Press contributed to this report.